The city of Wildwood Police Department was one of 212 police departments throughout the nation, and the only police department in Cape May County, awarded a Community Oriented Policing Services (COPS) grant from the federal government. The $650,000 grant is being used to hire five additional police officers to help bring the city's police department closer to full force.
An additional $400,000 COPS grant allows for the hiring of two full time police officers who served in our nations' post 9-11 military.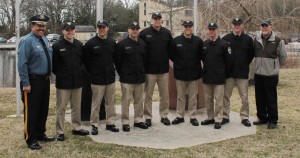 Quality of life issues, such as public safety, is a high priority for Commissioner Tony Leonetti.
"My concern has been the minimal staffing level of the police department. These grants allow us to hire seven officers," Leonetti said. The commissioner oversees the city's departments of public safety and public affairs. "The ultimate goal is to return to a 47 officer police department to ensure the safety of our residents."
The seven new officers, Ptlm. Jacob Harris; Ptlm. Matthew Mahoney; Ptlm. Samuel Stagno; Ptlm. James Allen; Ptlm. Christopher Katz; Ptlm. Andrew Vivarelli; and Ptlm. Tristan Johns are completing their training and will soon begin to patrol Wildwood's streets.
"When these officers get on the street, we will be able to implement our community policing as well as focus on targeting street-level narcotics activity through the use of an undercover street crimes unit," said Wildwood Chief of Police Robert Regalbuto.