This is a story about a real  North Wildwood NJ war Hero, – Cpl James Beschen, Wildwood, NJ, 3/9th Marine, 01 January 1945 – 19 July 1966.
This Veterans day we would like to remember a local war hero Cpl James Beschen, a real war hero that gave his life for his country, and so we could live free, and he made the ultimate sacrifice, his life.
It is easy to forget our war hero's when you are going about your busy lives, but tomorrow please stop and remember those who let us live our lives as FREE Americans, because Cpl James Beschen and many other war hero's laid down their lives in foreign country's for us.
North Wildwood hosted the 43rd Beschen-Callahan races this summer. They were named after Jim Beschen and Mike Callahan, former North Wildwood lifeguards who were killed in the Vietnam War.
27 Sep 2001
REMEMBERED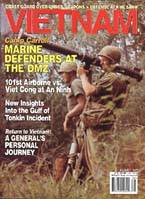 A photograph of James Beschen appeared on the cover
of the August 1997 issue of VIETNAM magazine.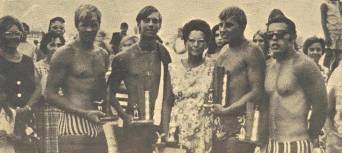 Mrs. Elizabeth Beschen, mother of former lifeguard James Beschen,
presents trophies to Tom Bradley, Joe Raysinger, Tom Palmer and Mike Morley,
winners of the mile-long swimming relay.
(Picture from the August 14,1969 Cape May County Herald)
James Beschen was born on January 1, 1945. He was six feet tall, weighed 145 pounds and had blue eyes. He lived in Wildwood, NJ and attended Wildwood Catholic High School. He enjoyed hunting. He entered the US Marine Corps on October 10, 1965 and attained the rank of Corporal (CPL).On July 19, 1966, at the age of 21, James Beschen killed in action in South Vietnam, Quang Nam Province. While in the armed forces, James earned four medals for Vietnam as well as Pistol Sharpshooter, Rifle Expert and the Purple Heart.
"James was killed by friendly fire. He was flown by helicopter to the hospital but they could not save him. I certainly praise the Marine Corps for all they did for my son. My grandson joined the Marine Corps 30 years later. One day he walked into one of the buildings near Camp Lejune and he saw this picture on the wall and he said that is my uncle, my mother's twin brother, and the man in charge took it right off the wall and gave it to him. This is how I happen to have it.

"Written by Elizabeth Beschen,  His Mother"