How good is the WiFi at the motel you vacation at? I am going to guess not that good. My company wirelessformotels.com & wirelessforcondos.com installs these extended Wifi business systems from Ocean City to Cape May, but most of our clients are in The Wildwoods.

I will list one motel I think has the best internet WiFi service later in this blog.
Let's face it, WiFi is the #1 amenity vacationers want. Not just WiFi but GOOD WiFi,  but most motels choose not to pay for the best service for their customers. With a family of 4, everyone has a cell phone, a laptop or two and an iPad.
And they all want to connect at the same time.

So now let me tell you how to know if the motel you are planning to spend your vacation at has GOOD WiFi.
First: ask if the motel has Comcast business class as their service provider. If not, thats the first sign you should stay somewhere else.
Second: ask what their speed is, if they don't know, tell them to go to speedtest.net and run a speed test and tell you the results or call you back with the results. It only takes 2 minutes. If they want your business they will tell you.
Third: make sure you use an email to ask these questions so later you can dispute the charges on your credit card when the speed test is under 10 mbps download speed (residential speed). Comcast business class slowest speed is 16mbps download and 3mbps upload speeds. Businesses can get Comcast Business Class @ 150mbps for $299.99 a month but 99% of the motels choose not to pay for this service for their customers.
Fourth: ask how many WiFi access points they have. They are also called WiFi extenders, boosters, bridges, and range extenders. Any motel with more than 30 rooms should have at least 4 outdoor WiFi access points. Small motels under 30 units should have at least 2.
Fifth: use your phone and install the App Ookla Speed Test and test the speed with your phone or go to speedtest.net and test the speed yourself, if it is under 10mbps complain to the office if your having problems connecting.

The problem is the motel owners want to advertise "Free WiFi" but not pay for right Comcast business class internet services to accommodate their guest. The issue falls on the owners who don't want to spend the money. They will blame it on the guest for downloading movies or blame it the installer like myself. But today vacationers don't just want WiFi,  but GOOD WiFi.  The bottom line is the owners are the biggest problem,  they will not listen to advice from their IT tech and don't want to spend the money to give their customers the best WiFi available.
Ok, so you want to know what motels in The Wildwoods have GOOD WiFI?
I'll tell you one right now.
The Athens II Motel located at 2nd and Ocean Aves in North Wildwood has 2 Comcast Business Class Services and 8 access points, yes that right 8 of them. The owner tells me that they have had no complaints all summer. Their WiFi is so good that customers can access the WiFi service from the North Wildwood Beach. Now that's GOOD WiFi.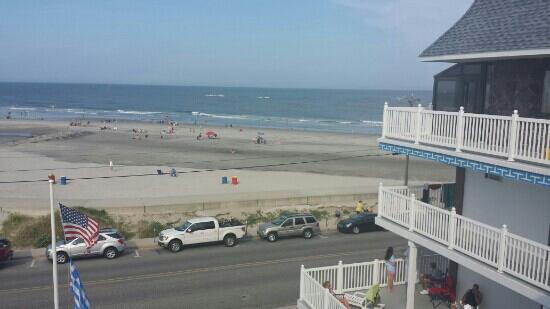 201 Ocean Ave, North Wildwood, NJ 08260
How good is the WiFi at the motel you're staying? Let us know, comments are turned on for this blog and we would like you to tell us your experience with WiFi service where you stayed this summer. Email me at infowatchthetramcarplease@gmail.com We would like to know. I hope this blog opens up the eyes of the owners who fail to realize that vacationers want GOOD WiFi and they are going to have to spend the money to give it to them or lose customers in the future.
If the motel you stay at does not have GOOD WiFi tell them to contact us. Our team of professionals can diagram a wireless plan for their building. We have local references like the Athens II Motor Inn. Call or text us at 609-972-9021