Dick Clark said that "Wildwood was the birthplace of rock and roll" It is where people came on vacation to go to Moore's Inlet and The Red Garter. The enjoyed the boardwalk movie theaters, Skyline golf, Aqua Circus, The Castle Dracula, Morey's Piers Hitchcock Manor and Jumbo Jet Roller Coaster, Hunt's Piers Jungleland and The Keystone Kops.
The waited in line at Zaberers Restaurant, drank vino at Russo's Restaurant and turf lounge, danced all night at the Stardust, The Penalty Box, The Oasis, The Fairview and Maggie Mays, The Martinique, The London Ale House, Henry's Bar and the Bolero.
Most towns thrive off their past and the landmarks that people come to visit year after year. When they let the builders rape and pillage this island 13 years ago it has never been the same for locals and tourist alike.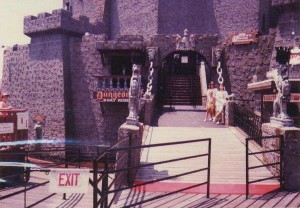 God forgive them.. they know not what they do. Only what their high priced consultants tell them, Here is a crazy idea… ASK THE PEOPLE and give them what they want, not want u think is best, or what your out of town consultants tell you, it's just money for nothing!
When you have no more landmarks for people to enjoy and visit and you don't embrace the past of this island, what do you think the future will be? ASK THE PEOPLE AND LISTEN TO THE PEOPLE!  GIVE THEM WANT THEY WANT!
What's old is new again, bring back the past and the future will take care of it self!