Al Severino lived to ride the tramcar and did it for many years, It was one of his favorite things to do and also he loved Wildwood. Al was born in South Philadelphia, he enlisted in the Army during WWII, where he was wounded in action. He started as a mechanic for an auto dealer, eventually retiring from the Navy Yard after 31 years. He then kept busy driving a shuttle bus for Deptford Twp. For 20 years. Riding the Tram Car in Wildwood, eating at diners and the Phillies and Eagles were among his favorite things. He was a member of the VFW Post 7679, Westminster Road Bridge Club and for 10 years Woodbury Bowling League. Elvio had the honor to be awarded Man of the Year in Deptford Township.
We were so touched by the message we received from his daughter we wanted to honor him as a true Wildwoodian.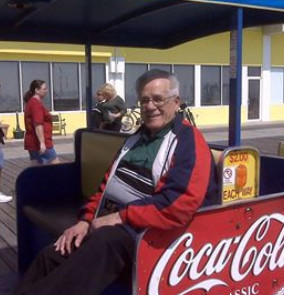 His granddaughter, Kelsey Marie wrote " On January 1 heaven called for an angel. If you met him, you know what a wonderful man he was. If you knew his family, then you were sure to hear crazy stories about him. He was quite the character, to say the least.
His Daughter Elaine Severino McDermott wrote "My 92 year old dad loved riding the tram car for many years. He got such joy out of it. He got to know GiGi and loved talking with him and always looked for him"