The beach is a place we all naturally associate with relaxation and enjoyment. It is important, however, to remain cognizant of the dangers mother nature can present — both in the water and on the sand.  By following some basic guidelines and listening to the lifeguards, you can ensure a safe and pleasurable time at the beach.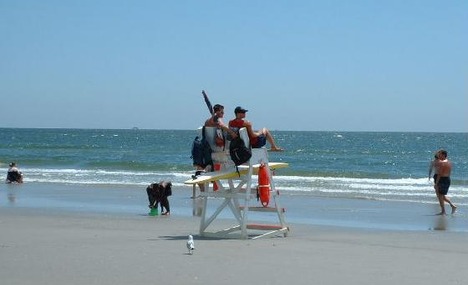 Learn To Swim. This is the single most important aspect of preventive water safety. Teach children to swim at an early age.
Never Swim Alone.  Have a friend or family member in the water, or at least on the beach within sight.
Swim Near a Lifeguard.  The overwhelming majority of drownings occur on unguarded beaches or after guards have gone off-duty.  Statistics gathered by the United States Lifesaving Association indicate that the chance of drowning at an unguarded beach is nearly five times the risk of drowning at a USLA guarded beach.
Protect Your Neck.  Serious, lifelong injuries, including paraplegia, occur every year due to diving headfirst into unknown water and striking the bottom. People in Cape May have been seriously injured by diving headfirst, improperly riding waves, and entering surf beyond their skill level. Bodysurfing and bodyboarding can result in a serious neck injury when the swimmer's head strikes the bottom. Check for depth and obstructions before diving, then go in feet first the first time.  Use caution while bodysurfing, always extending a hand ahead of you or carefully distributing weight on your board.
Understand Rip Currents.  Rip currents are the leading cause of beach drownings, and the most common cause of rescues.   A rip current is a quickly moving offshore current.  Whereas regular currents run laterally with the incoming and outgoing tide, rip currents are less predictable and run perpendicular to the tidal currents.  A trained lifeguard can spot a rip current and assess its strength from the beach quickly.  They are usually identified by agitated, murky water, distinct from the rest of the ocean.  They often exist permanently near ocean structures such as jetties.  If caught in a rip tide:
Remain calm.  If there is a lifeguard on duty, waves your arms signaling your distress.  If no lifeguard is on duty, generate attention to other beach goers.  They should immediately call 911.
Do not attempt to swim against a strong current.  If you cannot touch the ground to walk in, swim parallel to the beach out of the rip current and then directly to shore.
Obey Posted Signs and Flags:  Read the signs when you first arrive and please follow their direction. Flags may be flown by lifeguards to advise of conditions as well as boundaries that change from time to time.  Additionally, Cape May uses a series of numbered signs at the reverse side of each beach entrance, visible from the water.  If you find yourself in an emergency, you may use this number to identify the 911 dispatcher, who will relay this to firefighters and beach patrol members responding to your call.
Cape May uses the following conditional flag system:
Green – Excellent
Yellow – Caution
Solid Red – Dangerous (typically no bathing, sometimes surfing)
Purple – Sea Pests (Jellyfish, etc)
Red with No Swim Symbol – Swim boundary / no swimming in this area