The Wildwoods, NJ – May 3, 2023 – Morey's Piers, located on the boardwalk of the Wildwoods, NJ, welcomes
guests back to the piers, water parks, and Morey Resorts for the unofficial start to summer on Memorial Day Weekend.
All three of Morey's amusement piers – Mariner's, Surfside, and Adventure – will be open Friday through Monday, May 26 -29. Raging Waters Water Park opens for the season on Saturday, June 3, with Ocean Oasis Water Park opening on Saturday, June 17.
Here's what's new at Morey's Piers this summer:
Curley's Fries at Adventure Pier: A boardwalk staple since 1974, Morey's has added a third location on the Wildwood boardwalk. Beach and boardwalk goers can now visit the newest shipping container at Spencer Avenue and the Boardwalk for a taste of these world-famous fries and lemonade shakeups.
In addition, Adventure Pier will also include a new Kohr Brothers shipping container. This unique and custom container will feature rooftop seating, allowing great beach and boardwalk views as guests enjoy their frozen custard!
Founder's Grub and Pub: Jumbo's Restaurant has gained popularity since adding The Founder Bar, located on the outside patio. "Due to its popularity, we decided that the restaurant needed some upgrades," said Jack Morey, 2nd Generation Partner of Morey's Piers. "So, we decided to rebrand the entire restaurant to celebrate our heritage and the people that contributed greatly to our industry."
The rebranded restaurant features new signage, tabletops, nostalgic photos, and a great bar menu that celebrates the ingenuity of seaside park entrepreneurs with cocktails like Uncle Fred's Lemon Shakeup.
"Sometimes people, places, and things carry a certain intellectual durability that should be carried on and celebrated, this being one of them on perhaps the most classic and original of all piers dating back to the early 1900s," Morey added.
Founders Bill and Will Morey (left to right) riding the Great Nor'Easter during the grand opening in 1995.
Morey's Big Little 9 Par 3 Golf Course: The Big Little 9 is small in size but big in beauty, including the lakes, marshes, natural waste areas, flora, fauna, hidden smiley faces, and overall landscape architecture of the course and amenities. "We call it 'The Happiest Golf Course on Earth,' an extension of the Morey's brand that stands for quality, family hospitality, and entertainment," said Jack Morey. Formerly Laguna Oaks Golf Course is located at 600 Bayberry Drive in Cape May Court House, just a 10-minute ride from the boardwalk. For more information about the Big Little 9, visit biglittle9.com.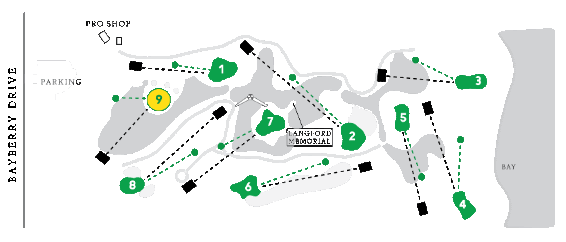 One of the new amenities is the addition of Cup of Bliss on the Green – a cafe offering coffee, cappuccino, lattes, cold beverages, and baked goods. The Club House has also been upgraded, offering a great collection of cool Big Little 9 merchandise.​
For kids wanting to learn the sport or improve their game, the Big Little 9 is offering junior golf lessons with instructor Polly Pollock-Bell, a seasoned instructor and the only locally certified by US Kids Golf. Juniors aged 17 and younger can book a 45-minute private lesson to learn the basics or work on a particular aspect of their game.
FUNclusive Package at the Blue Palms Resort: Sleep, splash, and ride! Your family will never be closer (to the action) than when they stay at the Blue Palms Resort, located a block from Mariner's Pier. Book a stay at the Blue Palms, and pier and water park admission will be included. Some exclusions and restrictions do apply. Visit moreyspiers.com/hotels/blue-palms for details.
Hours of operation and opening dates are subject to change. For more information on Morey's Piers, visit www.moreyspiers.com.