Cape May Court House, N.J. – While the holiday season might look a bit different in 2020,
Middle Township wants to help residents enjoy this magical time of year.
"The holidays are a special time of year," said Mayor Tim Donohue. "Despite the challenges
presented in 2020, the Township wanted to provide some semblance of comfort and joy to
residents this season. As we've done all year, we will celebrate without sacrificing anyone's
safety." 
 
In mid-November, the Township launched its annual Christmas Decorating Contest that
invites residents to "haul out the holly" and "deck the halls" to create festive displays
on their porches, houses, or yards. Entries are being accepted through Dec. 14.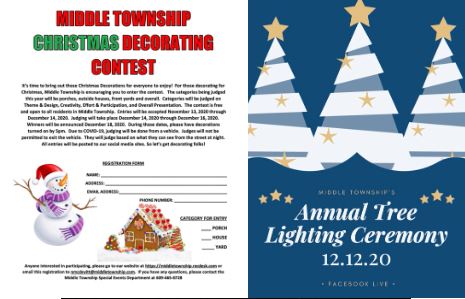 "Just as with the Halloween Decorating Contest this year, the Township is seeing residents
apply earlier and in greater numbers than usual," said Special Events Coordinator Nancy
McDevitt. She believes people are particularly eager for holiday cheer after a difficult year.  
 
"Driving around to look at the beautiful displays is a safe activity. It will give people a sense of
some normalcy," McDevitt said. "Plus, the children love looking at the lights!" 
 
After judging takes place from Dec. 14-16, the Township will publish the addresses of the
participating homes for those who'd like to take a driving tour.  
 
In previous years, judges entered participants' homes to see indoor decorations as well. But
to avoid in-person contact, judges will evaluate decorations from the street this time. Winners
will be announced Dec. 18 and will receive a plaque for their yard as well as a trophy.
Annual tree-lighting still on – virtually 
 
Santa Claus is still coming to Township. He'll ride a fire truck on the way to the annual tree-
lighting ceremony on Dec. 12. Santa, joined by Mrs. Claus, will lead a fire-truck procession
through town starting at 11am. The Township will light the tree at Town Hall that night and the
event will be livestreamed for the public on the Middle Township and Recreation & Tourism
Facebook pages.