The Wildwoods, NJ – January 20, 2020 – New for 2020, Morey's Piers, in Wildwood, NJ is proud to host
the inaugural Morey's Mania Beach Wrestling Tournament on August 15 th .
The brand-new event is open to males and females, ages 7 to adult, with divisions based on age and weight. The various divisions include; male, female, rookie (male & female), men's open division (18 &
over), and women's open division (19 & over). Weigh-ins will take place on Friday, August 14 th from 4:00
pm – 6:00 pm and on Saturday, August 15 th from 7:30 am – 8:30 am. All matches will take place on
Saturday.
The registration fee is $55.00 + (tax & fees) if registered by April 30
and $70.00 + (tax & fees) beginning May 1. Each registration will
include a two-day admission to Morey's Piers three amusement piers
and two beachfront water parks with a portion of the proceeds going
towards youth programs and charities. Exclusive ticket offers will also
be available for friends and family members of each registered
wrestler.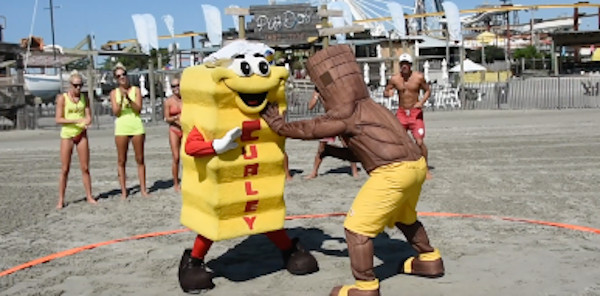 "We are excited to add beach wrestling to our great lineup of beach sports tournaments this summer,"
said Mark Scarpa, beach sports manager for Morey's Piers. "Our large beaches and amazing venues add
value to participants and spectators."
All matches will take place in 16' diameter rings located just steps away from Morey's PigDog Beach Bar
+ BQ. The tournament will follow the United World Wrestling Rules & Regulations for the discipline of
Beach Wrestling. For more details visit:
https://www.moreysmaniabeachwrestling.com/page/show/5488529-rules.
"The simplicity and fun of beach wrestling makes it very attractive to larger audiences," said Roland
Nichols, tournament director. "And we're excited to be partnering with Morey's Piers because beach
events tend to draw walk-up crowds, and this only helps to expand the reach of the sport."
There will be complete brackets and awards.
For more information about the tournament or to register visit,
https://www.moreysmaniabeachwrestling.com/home or email the tournament director at
moreysmaniabeachwrestling@gmail.com.
Watch the video here> https://www.youtube.com/watch?v=I522kfaTX3I