"The summer movie series comes to Leaming Ave beach starting July 7th"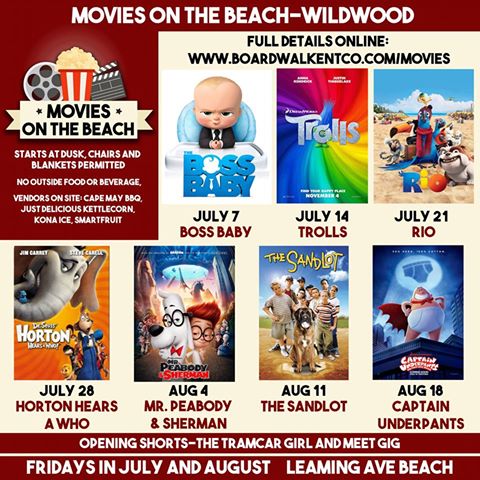 WILDWOOD, NJ- The long wait for the return of Movies on the Beach is now over, as Boardwalk Entertainment releases the full summer lineup. Starting July 7th until August 18th, every Friday families can come down to Leaming Ave Beach at dusk for a movie, snacks, and a good time. The movie will be displayed on a large inflatable screen, provided by Premiere Outdoor Movies. While the event has free entry, snacks and food will be available at cost. Guests are encouraged to bring chairs and blankets to enjoy the movie.
"I am excited that Boardwalk Entertainment was able to take on this opportunity for the Wildwood community," said owner of the company, Amanda Thomas, "The Movies on the Beach was a huge hit a few years back, and we hope it's return will be just as successful. This is just one of many events we will bring to Wildwood this season that's free of charge, and fun for the whole family."
Movie lineup: July 7th–The Boss Baby, July 14th–Trolls, July 21st–Rio (Pro Footvolley Tour Weekend Themed Movie), July 28th–Horton Hears A Who! August 4th–Mr. Peabody & Sherman, August 11th–The Sandlot (Baseball on the Beach Themed Movie), August 18th–Captain Underpants
The Boss Baby and Captain Underpants will premiere at Movies on the Beach before it is available for home DVD. Boardwalk Entertainment took on Movies on the Beach to offer a free event to the community, and save the City time, money, and efforts into the project.
"It was important for us to get the best for Wildwood, which is why we worked hard to get these two titles before they are available for home release," said Thomas. "A big goal for us was to produce this series so that the City did not have to incur the costs or spend the time to execute the event, like in past years. I think the City, residents, and vacationers will be very happy."
Boardwalk Entertainment completed funded the series, as with all 2017 Wildwood events, but is still accepting sponsors for the Movies on the Beach 2017 season. Sponsors are advertised at the event on screen, through banner/flyer advertising, and more. Details can be found by emailing Boardwalk Entertainment at info@boardwalkentco.com
Movies are only operate in good weather; any rain or storms will cancel the movies. Outside food and beverage is not permitted. For the most up to date information, attendees should keep posted to the Boardwalk Entertainment Facebook page.
Vendors at the event will include: Cape May BBQ with hot dogs, burgers, pulled pork and more, Kona Ice with flavor varieties of shaved ice, SmartFruit with over 5 different flavors of fresh smoothies, and Just Delicious Kettlecorn will be popping fresh on site.
All details are available online at www.boardwalkentco.com/movies.