We are always receiving messages about where to stay with your pets. So below is a list of places to stay!
Pets are allowed on beaches from October to May but are not allowed on the Boardwalk at any time. As of 2022, in season, dogs may enjoy the North Wildwood beaches with their humans when lifeguards are not on duty. All dogs must be leashed, and owners must pick up and properly dispose of droppings.
There is a Dog Park and Dog Beach at Glenwood Avenue. Dogs are allowed on the beach and in the ocean between Maple and Glenwood Avenues from dawn to dusk. Dogs must be on a leash and owner must pick up and dispose of droppings.
North Wildwood has a Dog Park on the beach at 24th Avenue, east of the Boardwalk. It is open from 8:00AM until dusk. A $10 permit is required from the North Wildwood City Hall. Contact NW City Hall at 609-522-2030 for more information.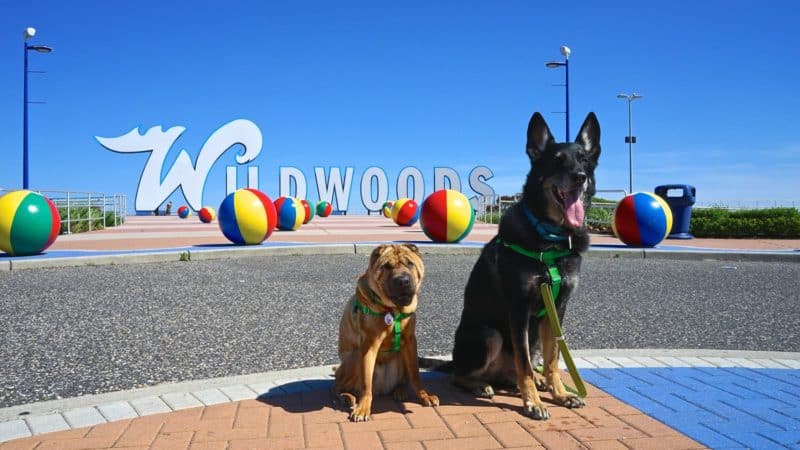 Admiral Motel
(small pets)
7200 Ocean Ave.
Wildwood Crest, NJ 08260
609-522-7704
Beachcomber Camping Resort
(4 cabins & all campsites)
462 Seashore Road
Cape May, NJ 08204
609-886-6035
Boardwalk Quality Inn
(under 20 lbs., 2 pets max.)
423 E. 23rd Ave.
North Wildwood, NJ 08260
609-522-7508
Enchantras Inn B & B
(under 20 lbs. & crated + cats)
2814 Atlantic Ave.
Wildwood, NJ 08260
609-523-1101
Jade East Motel
(under 20 lbs. & crated)
510 E. 4th Ave.
North Wildwood, NJ 08260
609-522-1867
Red Horse Motel
7705 New Jersey Ave.
Wildwood Crest, NJ 08260
609-522-1667

Royal Hawaiian Motel
(under 25 lbs., crated, 2 pets max.)
Orchid Rd. & Beach
Wildwood Crest, NJ 08260
609-522-3414

Sandbox Motel
(Additional fee per night/ per pet + cats)
5310 Park Blvd.
Wildwood, NJ 08260
609-846-1200
Skylark Motel Cottages
3701 Atlantic Ave.
Wildwood, NJ 08260
609-522-5082
Tide Winds Motel (dogs & cats)
231 E. Davis Ave.
Wildwood, NJ 08260
609-522-0901