Summer Nites is a DooWop Bed & Breakfast decorated in 1950's furnishings and decor.
We are open all year with fireplaces in our Elvis Suite & 60's Suite.
Summer Nites has all of the modern amenities enjoyed in a modern lodging while retaining and capturing the excitement and uniqueness of the early days of Rock -N-Roll. We are located in a quiet residential area of North Wildwood, NJ at the Jersey Shore.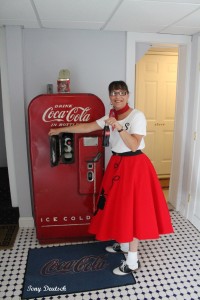 While at Summer Nites you will be served a full breakfast in our unique "box car" diner complete with a 1953 Seeburg Jukebox, neon lighting, diner booths and more. Our 4:00 PM refreshments consisting of root beer floats, milkshakes & soft pretzels will also be served in the diner.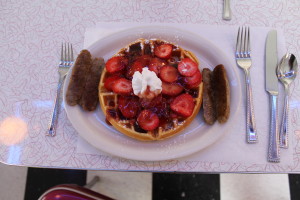 Guests can enjoy viewing, listening to and reading the many interesting vintage and repro 50's CD, and books provided in each room. Guests can choose from the following themed rooms; Elvis Suite, 60's Suite, "Life's a Beach" Room, 70's Disco Room, 50's TV Room, Marilyn Monroe Room, 50's Music Room and 50's Movie Room, each decorated with its own unique style. A stay at Summer Nites is like a step "Back to the Fifties.
We are open all year, so call us now to book your favorite themed room. And if you are in the area stop by for a FREE tour. Give us a call toll free at 1-866-762-1950 and visit our website at www.summernites.com, follow us on facebook at Summer Nites Bed & Breakfast.