On March 6, 1948, a New York City patrolman in plain clothes entered a cigar store on 106th Street in East Harlem and dropped a penny into a machine called "The Marvel Pop Up." He pulled back the game's plunger and launched a small steel ball into play. The silver orb danced around the tabletop board as the undercover policeman tried to keep it in play. His first five shots ended in frustration, but his sixth try proved lucky as the metallic pellet landed in a hole that won him a free play.
Having finally made his shot, the patrolman placed the cigar store's owner into handcuffs and arrested him for "unlawful possession of a gambling machine." The arrest was just the latest in a crackdown on one of the perceived scourges of American society in the 1940s—pinball.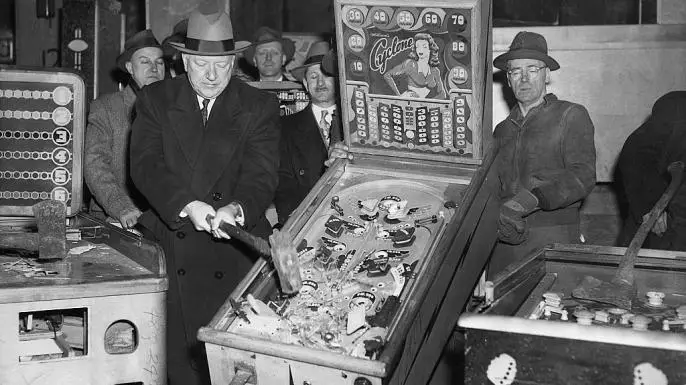 Prohibition. Pinball was banned beginning in the early 1940s until 1976 in New York City. New York mayor Fiorello La Guardia was responsible for the ban, believing that it robbed school children of their hard-earned nickels and dimes. La Guardia spearheaded major raids throughout the city, collecting thousands of machines. The mayor participated with police in destroying machines with sledgehammers before dumping the remnants into the city's rivers.
The ban ended when Rodger Sharp (a star witness for the AMOA – Amusement and Music Operators Association) testified in April 1976 before a committee in a Manhattan courtroom that pinball games had become games of skill and were not games of chance (which are more closely associated with gambling). He began to play one of two games set up in the courtroom, and – in a move he compares to Babe Ruth's home run in the 1932 World Series – called out precisely what he was going to shoot for, and then proceeded to do so. Astonished committee members reportedly voted to remove the ban, which was followed in other cities.