A heaping helping of Olde World Italy will be served with amore and plenty of white, red and green during the 13th Annual Olde Time Italian Festival, taking place on Friday, September 29 and Saturday, September 30.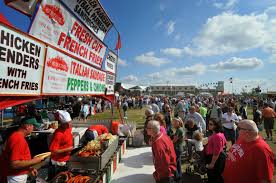 Hosted by the Sons of Italy of Wildwood, this event will take place in Fox Park, located on Ocean Avenue between Burk and Montgomery Avenues across from the Wildwoods Convention Center.
The FREE two-day festival celebrates Italian culture and heritage with Italian crafts, authentic Italian cuisine, games for the little ones, contests and continuous FREE live entertainment.
Take in the mouth-watering smells and tastes of an Olde World Italian Market plus Italian made goods, crafts and merchandise as vendors of all kinds fill Fox Park, including those selling Italian food favorites including pastas, sausages, chicken cutlets, clams & spaghetti, tiramisu, cannolis and more.
The Olde Time Italian Festival kicks off on Friday, September 29 at 5 p.m. with the Procession of Saints Mass followed by spectacular live entertainment at 6 p.m. starring Charlie Gracie and Purple Reign.
Saturday's festivities will include live performances beginning at noon with Brooklyn Bridge, 45 RPM, The Aquanets, Bittersweet, Kenny Jeremiah, Just In Time, Mike Averone & Johnny Bone, and Tre Bella.
For additional information about the Olde Time Italian Festival call 609-729-7499 or visit www.SonsOfItalyWildwood.org.
For additional information about the Wildwoods, visit www.WildwoodsNJ.com or call 800-992-9732.