We at the Boardwalk Blog – Tony Deutsch and Bob Ingram – are
hereby endorsing Wildwood Mayor Ernie Troiano, Jr. and his running
mate, Jeanne Kilian, in the November 5 election. They're Column Two,
folks.
Like most of America, Wildwood is changing demographically, and
these two candidates, we feel, are the best qualified to lead Wildwood
during this crucial period.
They're a great combination, and their campaign slogan of "Keep
Progress Rolling" indicates an optimism about the present and future of
Wildwood that they have the knowledge and passion to make a living
reality.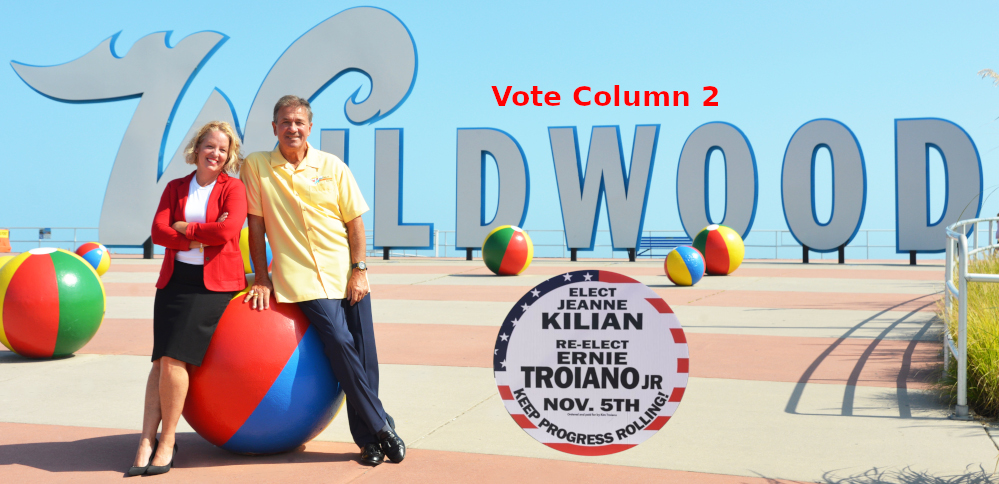 Ernie Troiano has long made the point that Wildwood, while in many
ways a small town, also has many of the characteristics and challenges
of an urban environment, and in Jeanne Kilian he has a partner who is
herself from an urban background – the Kensington section of
Philadelphia. Truth be told, many Wildwoodians also have a staunch
Philly background, many from the working class areas of Kensington,
South Philly, and Southwest Philly.
Jeanne Kilian also has the corporate moxie of a successful career in the
fashion industry – handling big budgets and traveling worldwide – to
bring that sophistication to the city, where she and her husband,
Thomas, have been homeowners since 2005. He is a 30-year Wildwood
lifeguard, and you can't get more Wildwood than that. He's also a 20-
year elementary school teacher.

Ernie Troiano doesn't need much of an introduction to Wildwood voters.
Like his family's cement company, which built much of the city, Ernie
has become something of an institution even in the rocky political wars
of Wildwood, which he has survived handily and actually thrived on. If
one thing has become clear during Ernie's time as mayor is that he
unequivocally loves the city and its citizens.
Wildwood is seeing infrastructure progress, a lower crime rate, new
playgrounds and upgrades of the city's parks, an increase in new
residences and businesses, Back Bay development, solar on city
buildings, and early childcare for its community stakeholders, among a
long list of achievements.
This is Progress. Keep it rolling. Vote Column Two on November 5
th