As summer quickly approaches, the Wildwoods once again have added new attractions, activities and eateries for the summer 2014 season; and planned an event-filled summer of fun in the sun with all of their favorite rides and attractions ready for enjoyment.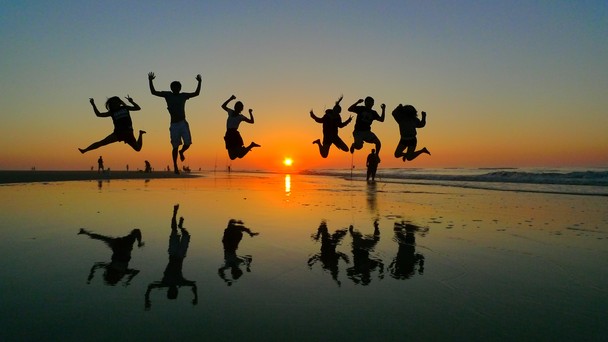 New Tram Cars
Five additional Tram Car Trains made their debut on the Wildwoods Boardwalk over this year's Easter weekend. The Tram Cars will run the two-mile stretch until the end of the summer season in September. The new Tram Cars are the first new trains to hit the boards since 1949. These Tram Cars will replace five of the original Tram Cars, dating back to 1939 – that are slated for retirement this year.
The Wildwoods Boardwalk Special Improvement District (WSID) plans to spend $90,000 on the five new tram car trains this year. The five new tram cars will bring a fresh and exciting addition to the Wildwoods Boardwalk. Along with the purchase of the Tram Cars, the WSID has provided $30,000 in renovations of the public restrooms on the Boardwalk at Youngs Avenue.
Wildwoods Icon Wall Mural 
Representations of the iconic people, places or things that have positively represented the Wildwoods throughout the '50s, '60s, '70s, '80s, '90s and today will be displayed throughout the Wildwoods in a brand new series of 'Icon Wall Murals.' The effort is a way to give back and show support to those who have made major contributions to the Wildwoods and have helped the Wildwoods become a favorite destination spot for many generations. The Wildwoods will present the icons through murals, paintings and other creative colorful displays. The art will be placed on sides of buildings along the Boardwalk and throughout the Wildwoods for everyone to enjoy. The first mural of the Wildwoods famous icon wall series, legendary rock 'n roll star Bobby Rydell, will be unveiled on Friday, May 23 at noon on the beach at Roberts Avenue. This unveiling will be the first icon wall mural of what is hoped to be many to come and will publicize the icon campaign launch on the day of the event.
New Events
The Wildwoods Convention Center is hosting an assortment of new events this year – an event for every member of the family. The United States Association of Independent Gymnastics Clubs will hold a regional gymnastics championship at the Wildwoods Convention Center Friday, May 23 – Sunday, May 25 featuring competitions on the floor, balance beam, uneven bars and vault. The competitions will be choreographed to music and prizes will be awarded.  Competitions will be held 9 a.m. – 9 p.m. on Friday; 9 a.m. – 9 p.m. on Saturday; and 9 a.m. – 8 p.m. on Sunday. Admission is $15 for adults; $10 for children. Call 609.407.7000 or visit http://www.usaigcnj.com for more information.
Also new this year is the Barber Shoppers Mid-Atlantic District Convention featuring quartet and chorus competitions. The Barber Shoppers Convention will be held at the Wildwoods Convention Center Friday, October 24 and Saturday, October 25. For more information visit http://www.MidAtlanticDistrict.com.
The new Wildwoods Beach 'n Boat Fishing Challenge features tournament fishing for the entire family in and all around the Wildwoods for three fun-filled days and nights over Father's Day Weekend – including special events and huge prizes. Tournament begins on Friday, June 13 at 1:30 p.m. and will continue through Sunday, June 15 at 3 p.m. Fish for eight species from the beach, a boat, a dock, jetty or anywhere in saltwater. Base camp and weigh-ins will be held in front of the Wildwoods Convention Center. Sign up today at http://www.BeachNBoat.com/Wildwoods.
Another new and exciting event added to the Wildwoods this season is the Downtown Wildwood Farmer's Market, which will be held every Saturday from June 28 through August 30 from 8:30 a.m. – 1 p.m. The market will offer fresh produce, baked goods, specialty foods, local wine, craft beer and refreshments. The market will be located at 3501 Pacific Avenue (on the corner of Schellenger & Pacific Avenues).
The BeachGlow Music Festival makes a splash in the Wildwoods on Saturday, July 5 from 3 -11 p.m. on the Wildwood beach. Concert-goers will enjoy a multi-act show, headlined by Dvbbs, the chart-topping EDM (electronic dance music) duo from Los Angeles, directly on the Wildwoods' world-class beach. BeachGlow Concerts for Charity, Inc. are the only non-profit EDM concert producer in the nation. Proceeds from the event will go to the American Red Cross Disaster Relief Find. For more information and for tickets visit http://www.beachglowevent.com.
On Sunday, August 3, participants will put on their swimsuits, jump on their bikes and lace up their sneakers for the 'Queen of the Crest' Women's Triathlon. The triathlon begins at 7 a.m. with a ¼ mile ocean swim held at Rambler Road, a 10-mile ride through Wildwood Crest and finishes with a 5K run on the Wildwoods' beach. For more information, call 609.523.0202 or visit  http://www.memracing.com/queen-of-the-crest.html.
New Attractions 
Mariner's Landing Pier at Morey's Piers has added a major addition – Wave Swinger, a $1.5 million ride that will replace the iconic 35-year-old previous swing ride. This seaside ride lift of 11 feet and features artwork with a lots of Wildwood history – creating a spinning piece of art. Black and white photos of the Baker Brothers, Starlight Ballroom and Hunt's Auditorium along with color shots of Castle Dracula and The Flyer are some of the iconic images that are hand-painted on the 72 panels of the new Wave Swinger.
Providing more ride access in 2014, the MOR-EZ Card, available for the special price of $35, features 60 ride tickets plus valuable coupons. In addition, the card can now be used for Xtreme Rides including Sky Coaster, Sky Scraper, High Flyer and Spring Shot. More information is available at www.moreyspiers.com.
Morey's Piers continues to be a source of never-ending fun, and recent renovations and new additions to their nationally recognized attractions ensures that summer 2014 at Morey's Piers will not disappoint. Morey's has constructed a new stage for Adventure Pier – where musicians from Philadelphia's School of Rock will perform near the Great White Coaster Thursday through Sunday for the entire summer. Coastal Broadcasting's 98.7 the Coast and 106.3 WJSE, an alternative rock station, will be broadcasting live out of a new studio on Adventure Pier as well.
Last year, Morey's Piers added art to the Boardwalk with their Exit Zero Art Box. This attraction was constructed out of colorful repurposed shipping containers and feature artists' studios where local artists create and showcase their works of art all summer long. The Art Box features quirky amusement artifacts, nostalgic memorabilia and an eclectic array of retail merchandise. Art Box will be revamped this year as 'Art Box 2.0' and will feature two new eateries: Big Wave Burritos and Tony Luke's. Tony Luke's brings the best of South Philly to the Wildwoods with their roast pork Italians, chicken cutlets and cheesesteaks. Big Wave Burritos offers good vibes and great food – they will debut the ALOHA Smoothie Company – creating healthy choices on the Boardwalk with smoothies and yummy acai bowls.
New Restaurants 
Just when you think the Wildwoods already offer everything one could possibly want to eat, new restaurants throughout the Wildwoods in 2014 will offer even more options for Wildwoods guests. A new steakhouse 'Jake's Steaks' will debut this summer at Surfside Pier in North Wildwood. 'Jake's Steaks' will be offering real Philly cheesesteaks, chicken cheesesteaks and delicious sausage sandwiches.
An all-new sushi and wine bar makes a debut in North Wildwood at Keenan's Cabana Grille on Olde New Jersey Avenue. The May 2014 grand opening will showcase their new and exciting menu for the upcoming summer season.
The Taco Joint, a new eatery on Mariner's Landing captures the flavor and style of both Mexican and SoCal – serving shrimp, fish, pork, chicken and beef tacos and quesadillas including a variety of fresh salsas and freshly prepared nachos. Add a margarita to finish off the perfect Mexican Fiesta. Enjoy this old favorite with a new twist – Domino's Pizza relocated to a larger space at 4800 New Jersey Ave, Wildwood, allowing for dine-in eating and a 'pizza theater.' The location is one of only 200 eat-in Domino's in the country. The new facility also offers pizza lovers the chance to watch their pizza from the dough stage to ready-to-eat, featuring a long glass wall giving full view to the preparation process. Also new to the 4800 block is Dong Sin, offering Japanese cuisine such as teriyaki dishes and sushi.
'Part art – part science' was the owner of the Dog Tooth Bar & Grill's motto when they opened Poppi's Pizza Napoletana in the old Mr. D's location on New Jersey Ave. – next door to the Dog Tooth Bar & Grill. Featuring fresh, local ingredients in all of their specialty pizzas, salads, small plates and sandwiches, this new eatery will be a hit this summer with families looking for gourmet eat-in or take-out and fun for foodies looking to indulge in black truffle oil pizza pies.
New Businesses 
Unwind and recharge with the all-new ItsWell Yoga Studio, located at 810 New Jersey Ave., North Wildwood. After a relaxing and rejuvenating session at the new yoga studio – stop by the new Stuey's Juice Bar & Bistro at 5320 Boardwalk for a healthy, refreshing juice.
Beach Bums on 3rd and New Jersey Ave. in North Wildwood will be a hit with the ladies this summer – offering all the latest nautical fashion trends. Specializing in offering a little bit of everything – families can make it a one stop shop of souvenir shopping for their loved ones or to purchase toys and games to play on the next family game night.
More FREE Fireworks 
What better way to end a fun-filled week of summer fun in the Wildwoods than with FREE Fireworks! This year the Wildwoods have extended their Friday night display of fireworks by two additional weeks – now concluding on Friday, September 12. The spectacular nighttime display will still begin at 10 p.m. and will be launched from Pine Avenue & the Beach – the fireworks are visible from anywhere on the Boardwalk and beach. New this season, rain dates for Friday Night Fireworks will be Sunday nights at 9 p.m. So pull up a beach chair, pull in a lot with your car or just stop in your tracks on the Boardwalk for an exciting display of breathtaking color and lights –  now well into September.
Free Nature Walks 
The National Wildlife Refuge in Wildwood Crest is offering free nature walks — The Dune Trail and Marsh Trails are open from dawn to dusk throughout 2014. As part of the 12,000-acre Cape May National Wildlife Refuge, this 518-acre site is managed to protect one of the last remaining tracts of undeveloped maritime forest and beach in New Jersey. The newly completed Marsh Trail is wheelchair accessible, and ends at a spacious bird blind overlooking salt ponds and marshlands that are usually teeming with birds in all seasons. Frequent free and low cost events for families are offered throughout the spring and summer. There are free bird and nature walks that are perfect for beginners or experienced naturalists every Saturday morning at 9 a.m. Evening Full Moon Walks are held each month on the Saturday closest to the full moon. Other activities such as the "Third Thursday" Plein Air Outdoor Watercolor Painting classes, photography walks, "Nature-cize" fitness walks and other programs are also popular with visitors and vacationers.

Bikeability

Don't forget while you are vacationing in the Wildwoods to take advantage of the Wildwoods' 'Bikeability.' Bike along the scenic 12-mile round-trip bike path – expanded recently and now stretching from the Wildwood Crest Dunes Bike Path, up onto the Wildwoods Boardwalk to North Wildwood's Mulberry Bike Path to the North Wildwood Sea Wall, allowing Wildwood vacationers the option of a leisurely, or athletic, bike ride throughout the Wildwoods.

The Wildwoods continue to grow and expand, creating more family-fun opportunities, so pack your family and book your trip to the Wildwoods this summer. From our beautiful wide free beaches voted Best Beaches in New Jersey, to the many free events and festivals, free Friday Night Fireworks, free concerts 4-nights each week and free family fun, the Wildwoods truly are the best family vacation value at the Jersey Shore.For additional information about the Wildwoods, visit www.WildwoodsNJ.com or call 800-992-9732.