For 138 years James Candy Company based in Atlantic City has been making candy for generations along the Jersey Shore. The Wildwood location is at Oak and the boardwalk.
For more read the press release below.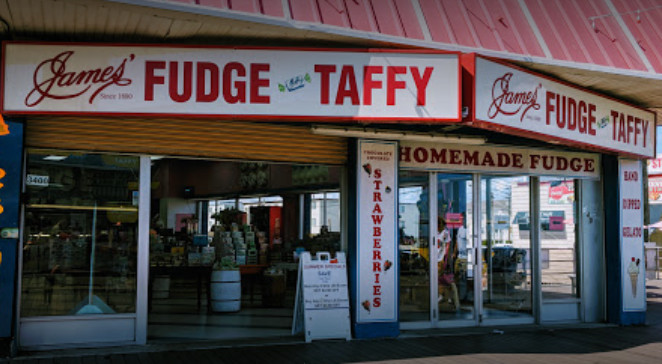 James Candy Company Initiates Processes for
Strategic Reorganization and Financial Restructuring
Atlantic City, NJ – November 7, 2018 —James Candy Company (JCC) today announced a
voluntary petition for relief under Chapter 11 of the Bankruptcy Code in the US Bankruptcy Court
for the District of New Jersey. JCC anticipates the process of reorganization to move swiftly as
it continues negotiations with creditors and outstanding vendors.
JCC will continue to operate its James' Candy, Fralinger's Salt Water Taffy, and Bayard's
Chocolate Stores as well as its online mail order business. Customers should not expect any
changes in operations and product fulfillment during the 2018 holiday season and thereafter. The
Company plans to continue payment of employee wages, benefits, vendors and suppliers in the
ordinary course for all goods and services provided on or after the filing date.
"The combination of reduced Atlantic City visitors and boardwalk foot traffic since 2006, the
underperformance of 2018 summer sales along the New Jersey seashore and the continuing
increased cost of business operations has impacted our efforts to remain a profitable
business. Over the last several years we have worked very hard to transform our business and
cut costs. While these efforts made great strides, the plan was not able to deliver the results the
company needed. The process of Chapter 11 will give JCC the ability to strengthen its operations
and balance sheet, EBITDA and return to a profitable position. We have already begun to work
with creditors, vendors and other business partners to maintain service to our customers," said
Frank J. Glaser, President and CEO.
About James Candy Company
Since inception in 1880, James' Candy Company (JCC) has stood the taste of time and continues
to bring nostalgic, quality confections to its customers. JCC sells three unique and popular brands;
James' Confections, Bayard's Chocolates and Fralinger's Salt Water Taffy. Each brand has
survived on its own through its excellent reputation and quality products which are currently sold
in the mid-Atlantic region in 11 company-owned retail stores, and nationally via wholesale and
direct mail order (www.jamescandy.com) business channels.