Who want's to win a FREE family vacation this fall in The Wildwoods?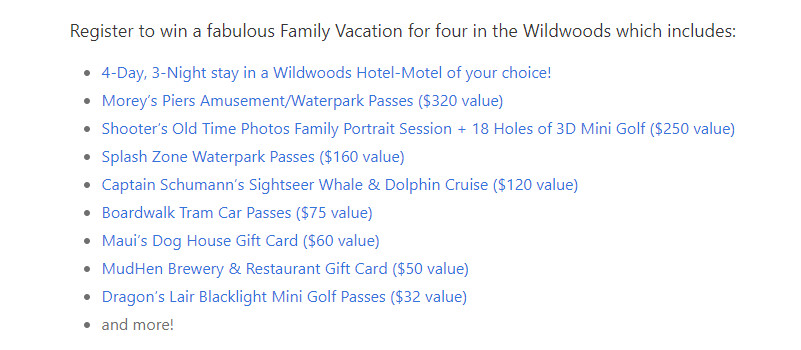 The winner of the Fall Family Vacation Getaway drawn on October 20, 2020 must use their prize package prior to September 2, 2021.
All entries must be received by May 22, 2020 and October 30, 2020 to be eligible. All transportation, taxes, gratuities, duties or fees are the responsibility of the winners.
Enter to win a FREE Fall Family Vacation here > https://wildwoodsnj.com/win-a-family-vacation/
By entering one time, you will be eligible for the two Grand Prizes of a 4-Day, 3-Night Family Vacation in the Wildwoods. The winner will be selected by random computer drawing and will be notified by email and certified mail. Winners must claim their prize via email or phone within 30-days of the drawing. Any prize not claimed within the 30 day period will be forfeited.
The Fall Family Vacation and info is from thewildwoodsnj.com