WILDWOOD – City police officers are piloting a body camera program that provides an extra level of safety not only for them, but also for the people they serve and protect.
"We decided to go with body cameras to continue the movement of the Wildwood Police Department into the future," said Wildwood Chief of Police Robert Regalbuto. "There's a big push nationwide to use them in light of all the incidents involving interpretations of aggressive police actions.
According to the chief, two cameras are currently being tested by officers as they make the rounds throughout their 12-hour shifts.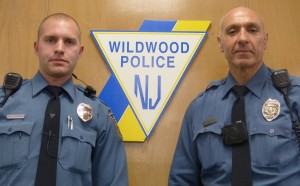 "They're constantly on," he explained, "but they're not constantly recording." The touch of a button, however, turns on the camera and its 30 second pre-record.
"I've used it," said Ptlm. Elias Aboud. "I've used it for a motor vehicle stop; I've used it for a suspicious person stop." Aboud noted officers must advise the public they are being recorded.
"Inside a home, we have to advise them as well," he noted.
The use of body cameras not only protect police, but protect citizens, said Ptlm. Andrew Kolimaga. "It helps with complaints. I feel safer wearing one. As long as you're doing the right thing, the camera will back that up."
Officers are currently testing a wireless camera that is attached to an officer's tie, as well as a wired model that sits atop an officer's shoulder. As part of the pilot program, both cameras were supplied to police at no cost to the department or the city. During the testing period, cameras will be rotated through the department with each officer wearing the new apparatus. Several models will be tested before a decision is made to purchase the cameras.
"It's a 60-trial for each camera," Regalbuto said. "We're going to try several models before deciding which camera to use. Each camera costs approximately $1,000. "Eventually I'd like to see a point where all officers have them."
The use of body cameras is new technology for many police departments. Under current state law, a camera and microphone in part of each police vehicle. Body cameras allow a more precise, wider scope of recording, essentially allowing the camera to see what the officer sees.
"The difference between body cameras and in-car cameras is that the in-car camera only records what the vehicle is facing. The body camera is on the officer as he moves and if he or she has to go inside to a building or a residence, we still have camera views," said the chief. Images recorded by body cameras are admissible in court.
Recording interactions between police and members of the public insures safety for both parties. Officers wearing cameras are more apt to exhibit professional behavior and members of the public will stay on their best behavior, said Regalbuto.
Both Aboud and Kolimaga have become fans of new technology. "I'm happy with it," Aboud said. "I have no problem with it," added Kolimaga.