WILDWOOD, NJ, March 28, 2022 – Wildwood Business Improvement District (WBID) is pleased to announce the 2022Schedule of Events in Downtown Wildwood for the upcoming season.
The Downtown Wildwood season of events kicks off on Memorial Day Weekend, with outdoor Boot Camp Fitness Classeson Friday and Monday morning at 8:30 AM in Byrne Plaza, located at 3400 Pacific Avenue. The 9th season of the weekly

Downtown Wildwood Farmers Market will begin on Saturday of Memorial Day weekend and run through Labor Day Weekend, from 8 am to 12:30 pm! Held on both sides of Pacific Avenue, between Schellenger and Oak Avenues, the
Farmers Market will host an average of 60+ quality vendors each week. Shoppers will be able to find farm goods, baked goods, specialty foods, wine, beer, craft spirits, handmade soaps and candles, jewelry, gifts, crafts, clothing and much more!
There will also be breakfast and lunch items and hot and cold drinks for your enjoyment at the market! The Farmer Market is also where you can pick up your free DOOWW magnets and tote bags, and the place to purchase DOOWW apparel and Christmas ornaments. Don't miss it on Saturday mornings! There's FREE PARKING too!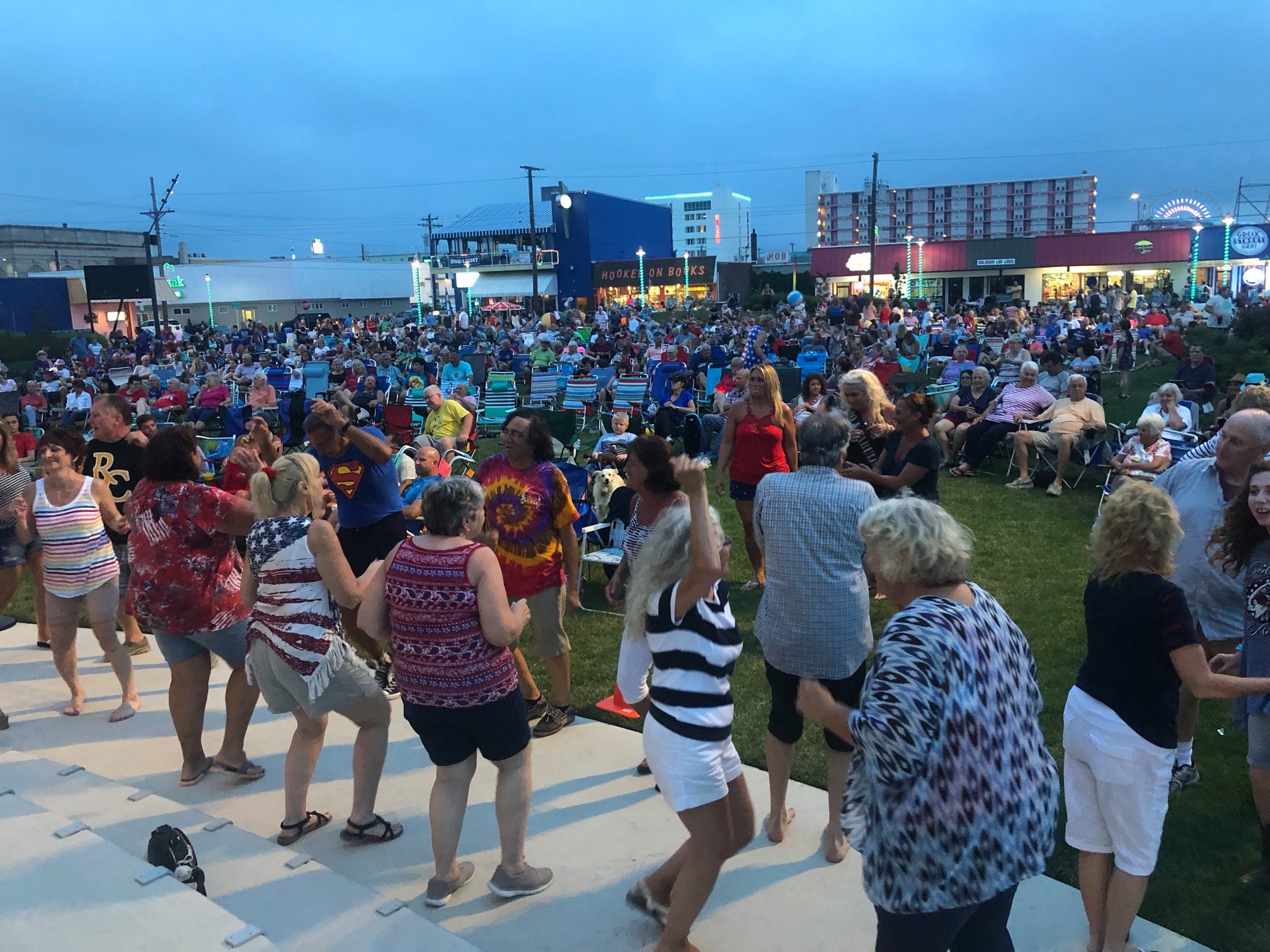 Beginning on June 20th, the full line up of activities and entertainment will begin in Byrne Plaza at 3400 Pacific Avenue! 5 Fabulous Days of Fitness in the Plaza: On Mondays, Wednesdays and Fridays you can take an awesome Boot Camp Circuit Training class for $10, from 8:30 to 9:30 am. On Tuesdays and Thursdays, it's Zumba time from 8:30 to 9:30 am for $5. All fees are paid directly to the instructor.
Music in the Plaza: Beginning on June 23rd, Free Live Bands take over the Byrne Plaza stage on Thursday nights, from 7:30 to 9 pm. Come early for dinner at one of our Downtown Wildwood restaurants, then dance the night away under the stars with these great dance bands:

June 23rd Roundhouse Band August 4th A.M. Radio
June 30th Chicago 9 August 11th Winslow an Evening of the Eagles
July 7th The Beat Tells August 18th 40 North Country
July 14th Jamison Celtic Rock August 25th The Chatterband
July 21st Legacy Band September 1st The Big House Band
July 28th Animal House

Movies in the Plaza: Beginning June 28th, Tuesday Night is Free Family Movie Night in Downtown Wildwood! Bring your chairs and blankets and settle in for family movie night under the stars! Popcorn and candy will be sold at Byrne Plaza and there are lots of other food and drink options in Downtown Wildwood! These awesome movies start as soon as the sun sets!

June 28th @ 8:30 pm Bambi July 26th @ 8:15 pm Luca
July 5th @ 8:30 pm Straight Outta Nowhere Scooby Doo August 9th @ 8 pm Rio 2
July 12th @ 8:25 pm Tinker Bell August 16th @ 7:50 pm Ron's Gone Wrong
July 19th @ 8:20 pm Horton Hears A Who! August 23rd @ 7:40 pm Encanto
Fun Fridays: Live Music, Vendors & Yard Games will be at Byrne Plaza on 5 Friday evenings this summer from 6:30 to8:30 pm!
Kick off your weekend in Downtown Wildwood!

July 1st Love Affair Band August 5th The John Walter Band
July 15th Just In Time Trio August 19th Cape Shore Jazz Orchestra
July 29th Cape Shore Jazz Orchestra
Parking is always Free for Byrne Plaza Events in the lots behind the shops; on the east side of Pacific Avenue,
between Oak and Schellenger Avenues, and on the west side of Pacific, between Oak and Wildwood Avenues