Our sources tell us that Atlantic City's tramcar operators are still using Wildwood's voice of the tramcar. So I am going to surprise them soon and go to the AC boardwalk and record their tramcar voice and talk to the operators.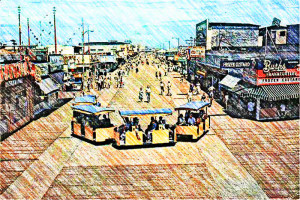 The boardwalk tramcar is unique to ONLY Wildwood and people for generation have loved and also been annoyed by the " watch the tramcar please" voice.
Now the people who call The Wildwoods their first or second home are annoyed at the fact that someone would steal our beloved voice of our tramcar.
Legal has noting to do with it, it's the moral and ethical thing to do!
Get your own voice for your tramcar.
This is not over by a long shot, we will continue to blog about this until they stop using the voice of Wildwoods tramcar.
To remember the Wildwood tramcar we are asking fans to post photos you have taken over the years of the Wildwood tramcar on our Facebook page at: https://www.facebook.com/TheBoardwalkBlog