During Women's History Month, we would like to celebrate the life of Katherine Baker (?-1919). She was the daughter of J. Thompson Baker, one of the founders of Wildwood.
She was recognized nationally and overseas for her efforts during World War I. Prior to the U.S. involvement in the war, she went to France and joined the French Hospital Service as a nurse. She was awarded the "Croix de Guerre et Fourragere" for her contributions, and was the first woman to attain the rank of corporal in the French Army. Baker transferred to the American Red Cross after the U.S. entered the war. In 1929, The Woman's Overseas Service League Convention honored her posthumously as one of four "Outstanding Heroines of World War I."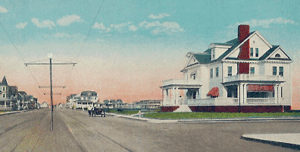 Baker spent her summers growing up in the Baker home built by her father. Katherine and her sisters were strong advocates for women's suffrage, and this Baker home served as a local campaign headquarters for the Women's Suffrage movement. Over the years many prestigious women involved in suffrage, visited and spoke at the house, including Ann Howard Shaw, M.D. a physician, preacher, activist and the first president of the National Woman's Suffrage Organization. The Wildwood Civic Club, a local women's club involved in social and cultural affairs in the community continued her legacy. The Civic Club purchased the Baker House in 1935 and continues to use it as its headquarters until the upcoming sale in 2018.
Content courtesy of The Wildwood Historical Society