Well, all I can tell you is the first million were the hardest. It all started out as a blog for a documentary in 2011 with Bob Ingram and then it took on a life of its own.
Since our first blog post on August 10th 2011, we have published 1,984 of them. We open our Facebook page the same month and we struggled to reach only a few 100 people a day. We shot the documentary Boardwalk II in the summer of 2012 and PBS was on board to show it until Hurricane Sandy hit and then they only wanted documentaries about the Frankenstorm.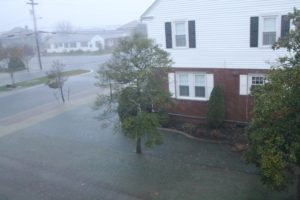 So, since we have boots on the ground here we knew we had an advantage over other Wildwood related Facebook pages. So I stayed in my home in North Wildwood during Hurricane Sandy and received 16,000 likes in 3 days.
On October 2nd, 2015 I received a text at 5 am telling me that a house went into the drink in Grassy Sound just outside North Wildwood. I got dressed and went to look for it, I used to own a home on 8th and the bay right on the water in 1986 and I knew what direction the current went so I was sure I could find it. Well, to make a long story short the 16 min video went viral, Fox News sent a car to take me and my son to Fox 29 studios in Philly and the same day, after every news station called to use my video we surpassed 50,000 Facebook fans and were reaching 21 million people.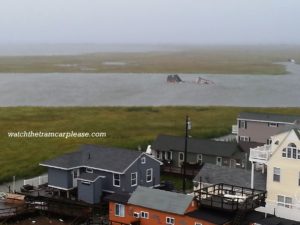 Today we have over 121,000 Facebook fans, over 26,000 subscribers emails and we reach over 1 million people a day with our post. We also have a large following on our Twitter and Instagram pages.
So last week we surpassed 7 million visitors to this blog, we are still amazed how many loyal followers we have, and most have been with us since day one. We want to thanks all our fans for checking into our page every morning for the morning video, weather, tide and sunset times. Now we have Tony Bones reporting every night LIVE at sunset.
For the record, we have received NO money from any tourism entities in The Wildwoods or Cape May County to run this page, even though they spend millions a year for commercials, print ads and bulletin boards they have never offered me 1 penny. So that's why when they call me about something I posted they don't like I tell them to mind their own business, and I will the next time they call. I have spent thousands of dollars of my own money and thousands of hours building this blog and connected social media pages with endless help from good friends who love Wildwood as much as I do.
They are, my wife Joanne, Bob Ingram, Michele Mendelson, Ed Coleman, Barb and Tim Blute, Barbara Deritis, Helene Korey Marley,  Lisa Russo, Tony Bones, Deb Moore, Steve Szczur, John Neo, Dave Rodriguez and Sean McDermott. Thanks to all of you very much and all our fans who are the reason we keep going full speed ahead!