AC Electric Middle Township to the Wildwoods Reliability Project.
The project will be from Grassy Sound between Middle Township and West Wildwood.
Here is the project rendering.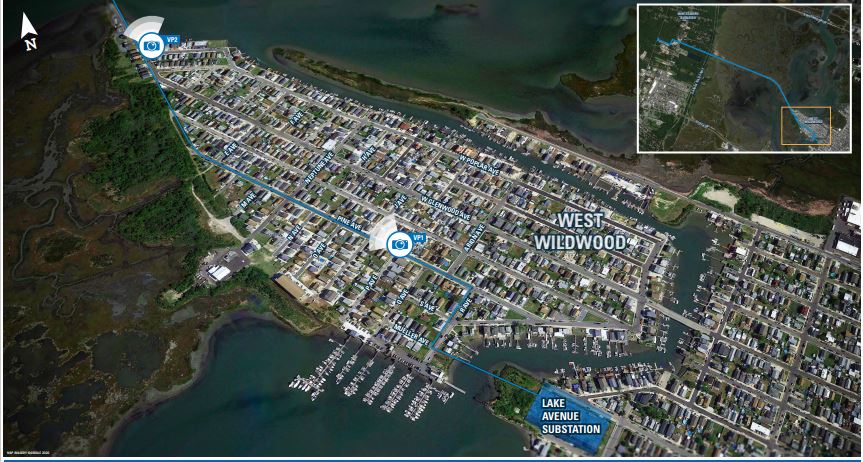 The Middle Township to the Wildwoods Reliability Project will rebuild four miles of critical transmission line between Middle Township and the Wildwoods to strengthen the local energy infrastructure against more extreme weather and improve reliability for more than 24,000 customers. These upgrades will create a modern energy grid connecting Middle Township and the Wildwoods that is stronger and more resilient. This improved infrastructure will lead to fewer storm-related outages and better reliability for customers. Construction is underway and is expected to be completed by May 2021.
AC Electric will be using helicopters to move employees and equipment.
The existing transmission line was originally built
in 1955 and is currently comprised of aging wood
poles, which are more vulnerable to storm damage.
Additionally, across South Jersey, we are seeing the
impacts of more frequent and more severe weather.
These storms and hurricanes are bringing stronger and
more damaging winds and extreme flooding, and are
having lasting impacts, particularly across the barrier
islands. To confront this, we are installing stronger utility
poles and new, modern equipment in communities
across South Jersey to harden the local energy grid and
provide our customers and communities with safer and
more reliable energy service.
For mmore info on this project visit them online at www.atlanticcityelectric.com/reliability
All info and photos courtesy of AC Electric.