In a tribute to President's Day, I thought it would be interesting to see if our town hosted or housed any of our U.S. Presidents.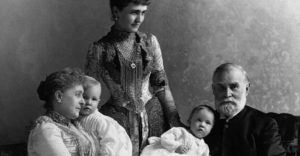 Benjamin Harrison, our 23rd president, made Cape May's Congress Hall his "Summer White House" during his term (1889-1893). President Harrison, his wife, and family, would enjoy riding around Cape May County to take in the local culture and environment. On May 30, 1890, Benjamin Harrison visited Wildwood to be on hand at the dedication of the new Hotel Dayton. The President took a liking to the famed, gigantic, curiously twisted Wildwood Holly Tree ("W" Tree) located at Wildwood and New Jersey Avenues. He had his picture taken with it. The "W" Tree stump now resides at the Boyer Museum. President Harrison and his family also attended the Cold Spring Presbyterian Church service on August 24, 1890. Prior to becoming president, four other future presidents stayed at Congress Hall but did not visit the Wildwoods: Pierce, Buchanan, Grant, and Lincoln.
The Wildwood Baker brothers had a close relationship with Governor Woodrow Wilson. Governor Wilson was a guest in the Wildwood Baker house on several occasions, including a stay on October 30, 1912, five days before he was elected to the presidency. The Baker House can boast that Wilson slept here.
Information for this article was researched at the Wildwood Historical Society's George F. Boyer Museum