Annual Easter Weekend Celebration includes Brunch Buffet,
Strolling Entertainment and Hotel Stay Packages
Spring Sale Starts March 30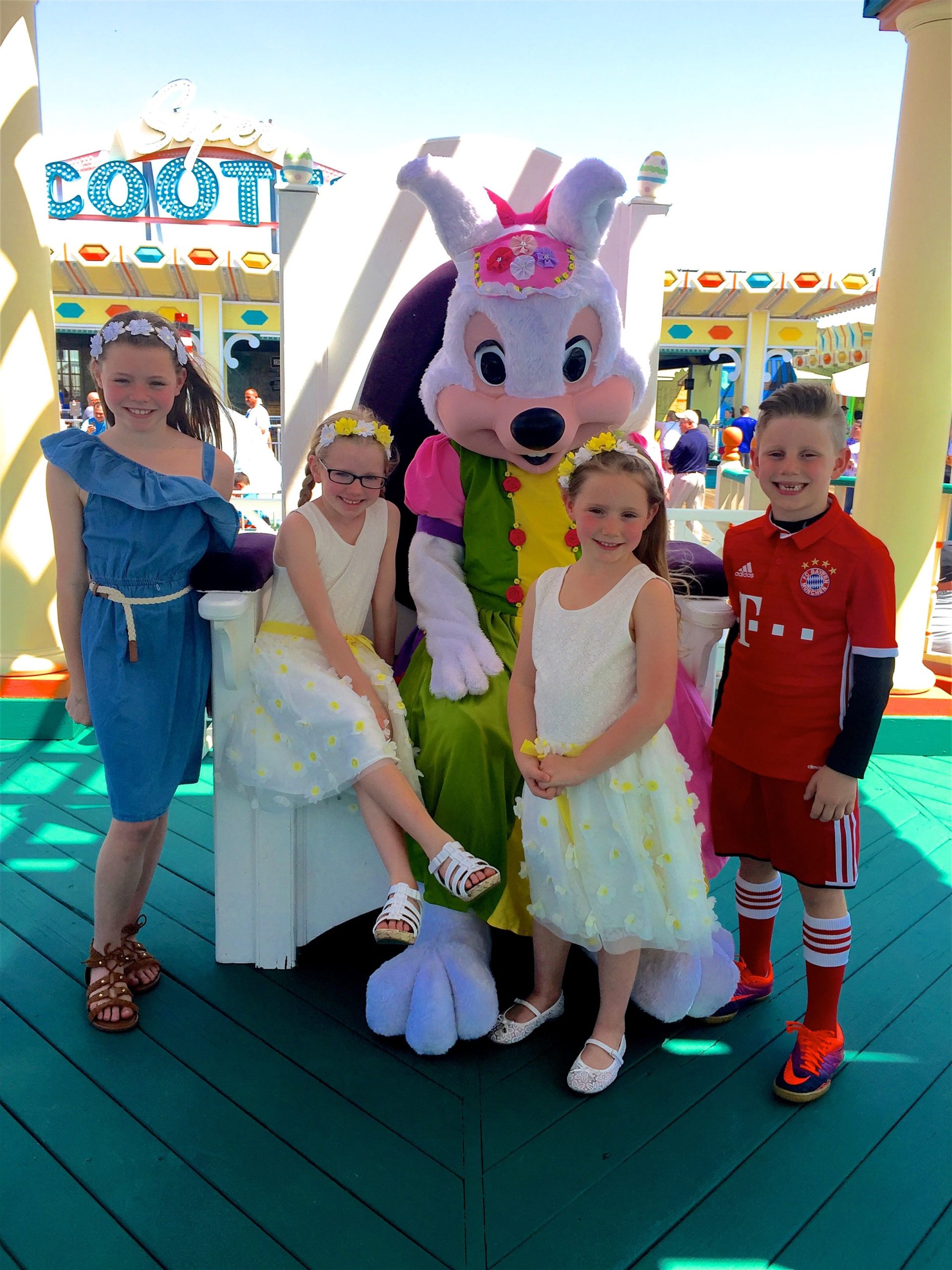 The Wildwoods, NJ – February 17, 2020 – Morey's Piers, located on the boardwalk of the Wildwoods, NJ, launches another season of festivities and events starting with the grand re-opening of Mariner's Pier from noon to 6:00pm on Saturday, April 11. On Sunday, April 12 Morey's Piers hosts its annual Easter celebrations at Mariner's Pier from 12:00pm to 6:00pm.
Easter weekend kicks off with an Easter Bunny Brunch Buffet at Jumbo's Grub & Pub. Reservations for Brunch can be made for Saturday, April 11 and/or Sunday April 12. Breakfast is $22.99 for adults; $16.99 for kids 10 and under; children three and younger eat for free. Prices do not include applicable tax or gratuity. Reservations for breakfast start at 8:30am and items include specialty eggs, pancakes, home fries, mini bagels, smoked salmon, assorted donuts and more. Carafes of Bloody Mary's and mimosas will be available for purchase. Limited availability; must purchase online and in advance: www.moreyspiers.com/easter.
At noon children 12 years of age and younger can pick an Easter egg for a chance to win an assortment of fun prizes ranging from stuffed animals and Curley's Fries buckets to one-day pier passes and water park passes. Two lucky participants will win the grand prize of a Morey's Piers 2020 Wild Pass, which offers one ride wristband per day valid for rides on all three piers and all-day access to both beachfront water parks; value is $400 per pass.
From 12:00pm to 4:00pm pictures with the Easter Bunny will take place on the Coca-Cola Stage located in front of the Ferris Wheel. Celebrations continue from 1:00pm to 4:00pm with strolling entertainment and balloon artists.
Morey Hotels & Resorts' "Bunny Hop Doo-Wop" package, available on April 11, 2020, offers families an Easter weekend at the shore. The overnight package includes:
One night accommodations at The Starlux or Blue Palms Resort
Two ride wristbands valid for two days (Saturday and Sunday); additional wristbands can be purchased at the hotel for $25, plus tax.
Two game vouchers each valid for one free game at select stands on Mariner's Pier
15 percent off Food & Beverage on Mariner's Pier. Discount excludes alcohol.
A standard king room starts at $129 per night at Blue Palms Resort; double rooms at the Boardwalk Bungalow at the Blue Palms Resort start at $149 per night based on double occupancy. A standard room at The Starlux starts at $159 per night. Rooms are subject to availability; price does not include hotel tax. To book the "Bunny Hop Doo-Wop" package, visit http://www.moreyspiers.com/easter and use the code EASTER when booking.