below is a Facebook post about the North Wildwood beach by Mayor Patrick Rosenello.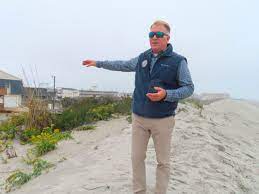 Dear Friends:
With the first full day of Spring upon us, I wanted to provide an update on our beach situation. Unfortunately, it is not good news.
The areas of our beach that have been most susceptible to erosion recently, in particular 3rd-7th Avenues & 12th-16th Avenues have lost a tremendous amount of sand volume this winter. In these two locations, there is little to no dry beach at high tide. Were it not for the steel bulkhead that the City installed south of 3rd Avenue the destruction to public and private property would have been catastrophic at this point.
For many years the City of North Wildwood would do annual sand back-passing projects using sand resources from the City of Wildwood beach. The sand would be harvested and then placed into large off-road dump trucks and transported along the beach to North Wildwood where it would be spread out to form a beach berm. The route for this project would bring the trucks along the shoreline directly in front of the piers between 23rd and Poplar Avenue.
Occasionally over the years we would encounter a particularly high tide that would temporarily inhibit our ability to transport sand along this route. In the past, those events usually lasted no more than a day or two. Over the years we tried to build a sand berm and create our own sand road, but quickly found out that it was a futile effort that had to be repeated daily. We were spending as much time, money and sand resources maintaining the road as we were replenishing our beach.
This year, however, the high tide is up to one or more of these piers twice per day. Even today, which is a very calm day with a normal high tide, two hours after high tide there is still water up to Morey's Piers. This makes it impossible to use this route for the back-passing.
We also looked at using street legal vehicles to move sand either from Wildwood or a quarry onto the beach. The largest street legal trucks we could use for this project carry about 17 cubic yards of material. Last year we needed to move 350,000 cubic yards of sand to provide the narrow beach that we had. That equates to over 20,000 truckloads of sand. And, since the street legal trucks would not be able to operate on the beach, we would have to handle that sand three times, meaning that this project would require 60,000 loads of material. That number is impossible to accomplish considering our time frame and infrastructure.
We have asked the New Jersey Legislature to make a special appropriation so that the NJDEP could do a hydraulic dredge project this year using sand in Hereford Inlet. That request is still pending, but I do not believe there is a high likelihood of it happening this year. The larger Hereford Inlet to Cape May Inlet Army Corps/NJDEP project is finally moving after being stalled for ten years, but construction of that project is at least 18-24 months out.
If you are a New Jersey resident I would encourage you to contact your local State Legislators. You can also call the Governor's Office and the NJDEP Commissioners Office and demand to know why the Wildwoods have received only 3/10 of 1% of all the Shore Protection Funds spent in the past 10 years in New Jersey.
As summer approaches we will be raking and grading the beach as best we can. The inlet beach has grown tremendously and can easily accommodate large numbers of people. However, I recognize getting there and finding parking is another story. I would also caution everyone against swimming in the areas of the Inlet beach that do not have lifeguard coverage.
In the coming days I will post another update about the status of legal battles with the NJDEP. In the meantime, if you have specific questions that I can address, please email them to me at info@northwildwood.com and I will try to address your specific questions.
Sincerely,
Patrick Rosenello
Mayor
City of North Wildwood