Please swim near a lifeguard and look out for Rip Tides which will be strong over the next 2 days along the beaches in Wildwood and all of Cape May County..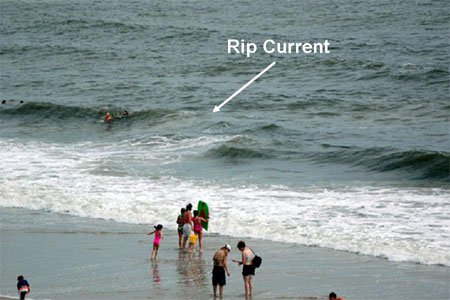 National Weather Service WARNING – HIGH RIP CURRENT RISK REMAINS IN EFFECT THROUGH LATE TONIGHT… * LOCATION… THE NEW JERSEY SHORE AND THE DELAWARE BEACHES. * RISK OF RIP CURRENTS… HIGH. * SURF HEIGHT… 4 TO 6 FEET. * TIMING AND TIDES.
LOW TIDE OCCURS EARLY THIS MORNING AND AGAIN THIS EVENING. HIGH TIDE OCCURS EARLY THIS AFTERNOON AND AGAIN LATE TONIGHT. * OTHER HAZARDS… MINOR TO MODERATE BEACH EROSION IS EXPECTED. PRECAUTIONARY/PREPAREDNESS ACTIONS… SWIM NEAR A LIFEGUARD. IF CAUGHT IN A RIP CURRENT, RELAX AND FLOAT. DO NOT SWIM AGAINST THE CURRENT, SWIM IN A DIRECTION FOLLOWING THE SHORELINE. IF UNABLE TO ESCAPE, FACE THE SHORE AND CALL OR WAVE FOR HELP.