The Wildwoods, NJ (August 26, 2015) – Summer may be over but the fun continues this fall at Morey's Piers & Beachfront Water Parks in Wildwood, NJ. From a thrilling zombie-themed 5K race and camping under the stars on Adventure Pier, to Oktoberfest menus at Jumbo's restaurant, visitors will find a lively schedule of happenings at Morey's Piers this September and October.
The Zombie Mud Run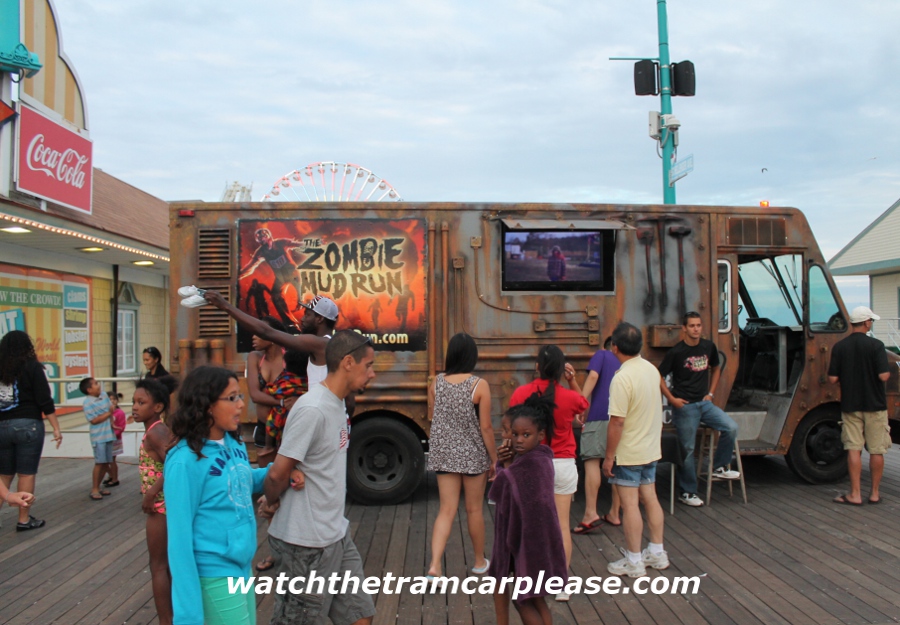 On September 19, 2015, the undead are back to haunt the boardwalk of Wildwoods, NJ during The Zombie Mud Run, a post-apocalyptic 5K obstacle race along the beach and piers.  The thrilling zombie-themed race challenges runners to eat or be eaten as they face obstacles including huge sand mounds, slides and "quicksand" pits.
Combining both natural and manmade hurdles, the course will take participants through the ocean, under the boardwalk to the deep, dark, recesses of the unknown, down Morey's Piers' famed 60 feet tall six-lane water slide – WipeOut!, and a ride on Morey's Great White wooden roller coaster. *Must meet all safety and height requirements to ride.
During the race, "Humans" will wear a flag football belt with three flags, representing their vital organs, which "Zombie" participants will try to "eat" by capturing the flag.  Whether you survive or get infected, everyone is invited to refuel at Wrecker's Beach Grille located at Raging Waters Water Park located at the end of Mariner's Pier. A variety of food and beverages will be available for purchase, including a selection of beers for those 21 years and older.
To participate as a "Human" or "Zombie," runners must be 13 years of age or older and pre-register at www.moreyspiers.com/zombierun.  Registration ranges from $35.00 to $85.00 depending on the running category. All participants will receive a complimentary ride wristband valid for the amusement rides on all three piers. Registration opens at 7:00am with race times starting every 30 minutes from 9:00am to 11:30pm. A Zombie Mud Run Junior will also be held for kids ages 12 and under.
Oktoberfest
Jumbo's restaurant located Mariner's Pier at Schellenger Avenue and the boardwalk celebrates Oktoberfest on Saturday and Sundays starting September 19 through October 11, 2015.  In addition to the regular menu, a special themed selection of Bavarian pretzels, bratwurst, German potato salad, schnitzel and more will be available.  On tap, guests will find a wide selection of beers and tastings flights to be enjoyed at an outdoor "biergarten" located behind Jumbo's.   For more information, visit http://www.moreyspiers.com/eat/food/jumbos.
Boardwalk Bunk-Down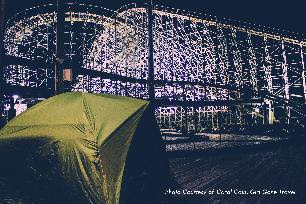 On Saturday, October 3, 2015, Morey's Piers will host the Boardwalk Bunk-Down, an outdoor sleepover on the pier that combines the thrill and excitement of an amusement park with all the "sleeping under the stars" fun of camping.
Starting at 11:00 am on Saturday, campers are invited to set-up their tents and sleeping bags on Adventure Pier before heading to Mariner's Pier to enjoy a full day of rides and amusements.  At night, families can cuddle together under the Great White roller coaster for a movie under the stars and complimentary popcorn, or visit Morey's S'mores Bar to toast marshmallows and indulge in the ultimate camping snack. A variety of popular boardwalk games including the three point challenge basketball game and soccer challenge will also be open at night. The next morning, from 7:00 am to 9:00 am, a complimentary continental breakfast (eggs, sausage, fresh bagels, assorted cereals, fresh fruit, donuts) and coffee station will help awaken the senses before it's time to pack up and take home fond memories of a camping adventure at Morey's Piers.
Tickets for Boardwalk Bunk-Down are $49 per person for early registrants who purchase by September 1, 2015.  Regular registration is $55 per person and must be purchased before October 1, 2015. Discounted tickets of $35 per person are available for all season pass holders; must present valid season pass at event check-in.  No on-site registrations are permitted.  To register and purchase tickets, visit www.moreyspiers.com/bunkdown.
All children ages 17 and under must be accompanied by an adult; event not recommended for children under the age of three.  Check-in and camp set up are between 11:00 am and 3:00 pm on Saturday, October 3, 2015. All participants must provide their own tents and camping equipment. All camps must be packed up and cleared from Adventure Pier by 11am on Sunday, October 4, 2015. For more information, email boardwalk.bunkdown@moreyspiers.com or call 609-522-3900 ext. 1195.
Morey's Piers & Beachfront Water Parks received a Tripadvisor 2015 Travelers' Choice award for Top Water Parks in the United States and recently ranked number two out of America's top 40 water parks, according to Foursquare. For more information on Morey's Piers, visit www.moreyspiers.com.