WILDWOOD – Wildwood High School senior Chris Mormile set a record that took 100 years in the making – he is the first athlete in school history to be signed to play NCAA Division I baseball.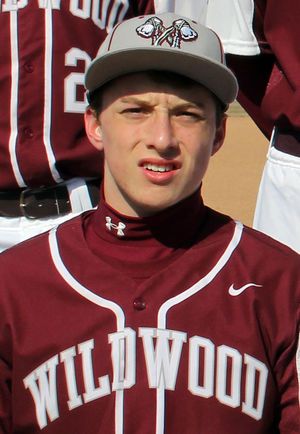 With his parents and coaches surrounding him, Mormile took pen in hand and signed on to play baseball for Wagner College in New York City.
Mormile said his decision to attend Wagner was made after his junior year when a coach from the school saw the Warrior pitcher's performance at the Philadelphia Phillies-sponsored Carpenters' Club showcase.
"The coach offered me a visit. I decided to visit and the tour was just unbelievable," said Mormile. The Wagner Seahawks play at Richmond County Baseball Park, a New York Yankees minor league baseball stadium. For the native New Yorker, going home to play ball is a "dream come true."
In addition to his college baseball career, several major league scouts have been watching Mormile.
Mormile's father, Anthony, said the pitcher's talent on the field was apparent when he was 3 or 4 years old. Chris is one of eight children, six boys and two girls. Two boys, Chris and Andrew, play Warrior baseball. "It's inborn talent," said his dad commenting about his son's success. "It's a tough task, but I'd like to see him go as far as he can go."
"Chris is the first Division I athlete to ever sign out of our program in the school's history," said Wildwood High School baseball Rich Hans. "He's the first one to get an athletic scholarship to play at the Division I level."