Jenni Mac's Snack is a cool new place @ 714 New Jersey Avenue in North Wildwood located at the former DeAngelis Italian Market. They have great food at great prices!
Guess what? They will cook your fresh catch for you. No other place on the island, as far as we know offers this service!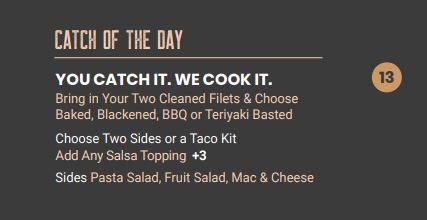 Join then for breakfast before your boardwalk bike ride! Biscuits and gravy, breakfast sandwiches, quiche and Chester's donuts. Try their cucumber salsa, artichoke parmesan dip and garlicky bean salsa! Get the trio with tasty tortilla chips for just $20!
Open Thursday – Sunday from 9am -7 pm. Call 609-425-2092
Take out, catering, and buffet parties. Customized menus for your occasion. Menu served all day!