WILDWOOD – A piece of Wildwood's rich entertainment and business history was honored Sun. Oct. 25 when City Commissioners Pete Byron and Tony Leonetti and Mayor Ernie Troiano unveiled a sign on Davis Avenue honorarily naming it "Joe Russo Ave."
The honorary renaming was done to commemorate Russo's importance in the development of the city as a nationally known entertainment capital.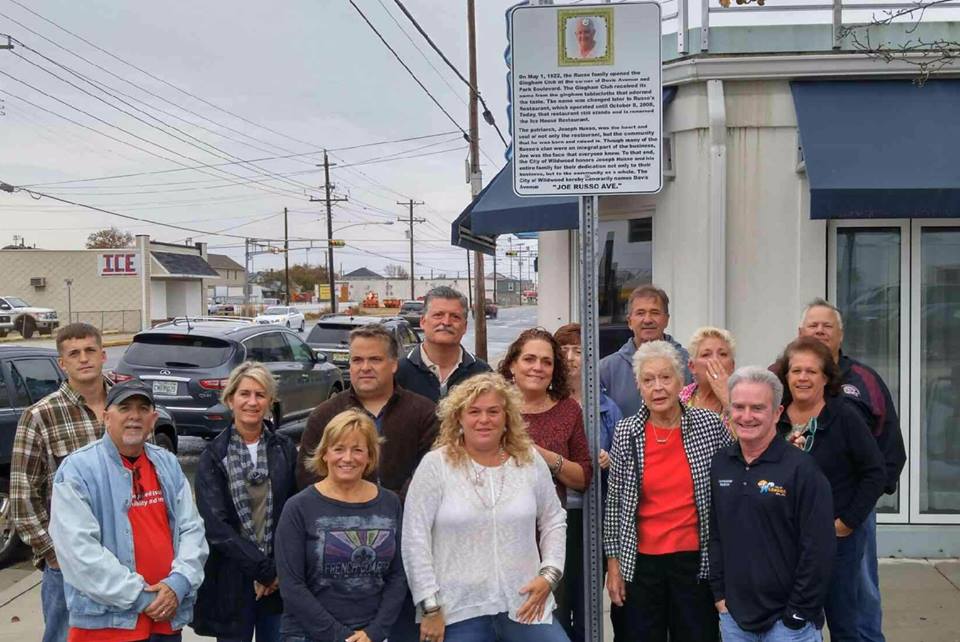 On May 1, 1922 the Russo family opened the Gingham Club at the corner of Davis Avenue and Park Boulevard. Named for the gingham cloths on each table, its name was later changed to Russo's Restaurant and operated until October 2008. Now named the Ice House, the restaurant continues to stand on the same corner.
Throughout the years many Russo family members were part of the family's business, but Joe Russo was the face that was associated with the restaurant. In naming the street, officials noted, "The City of Wildwood honors Joseph Russo and his entire family for their dedication not only to their business, but to the community as a whole."
The naming of the portion of Davis Avenue from Park Boulevard to Artic Avenue was done to commemorate Russo's place in Wildwood history,' said Mayor Ernie Troiano. "This is one of many that we hope to do. The city is committed to recognizing the places where these great pieces of Wildwood's history once stood."
##
Photo: Mayor Ernie Troiano, Commissioner Pete Byron and Commissioner Tony Leonetti stand amid the Russo family. Photo courtesy of Earl Ostrander Jr.