Article by NJ Monthly and written by Adam Erace
It felt like Mud Hen would never open. Whole summer seasons passed, and along with them, thousands of visitors to Wildwood who entered and exited the island via West Rio Grande Avenue, where a decrepit old Harley-Davidson dealership awaited transformation into the promised brewpub. It wasn't until April 2018 that Brendan Sciarra, who owns nearby Poppi's and Dogtooth, finally debuted Mud Hen with a 150-barrel system, expansive food menu and robust programming of live music and garden games.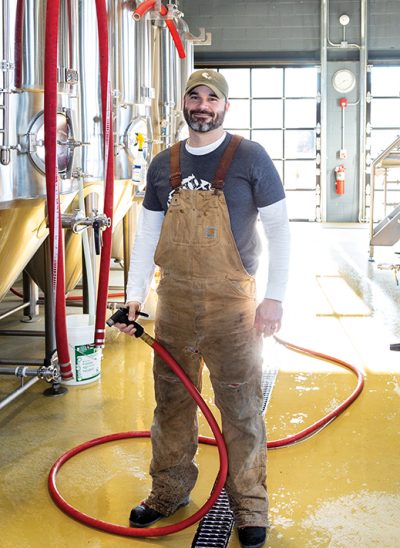 Less than a year later, and with its first (insanely busy) summer under its belt, New Jersey Monthly's panel of beer experts deemed Mud Hen the best brewpub in the state.
At the heart of MudHen's appeal is brewmaster Tony Cunha's smart, inclusive beer list. "Tony and the staff realize the importance of having something that will challenge the veteran craft-beer palate as well as having beer for the masses of people who are not accustomed to it," says John Couchoud, the cofounder and editor in chief of South Jersey Beer Scene and one of the New Jersey Monthly beer judges. To exemplify the range, Couchoud cites Mud Light ("an entry-level pilsner for the non-craft drinker") and Cackling Coot ("a complex Belgian Tripel that appeals to a craft-beer aficionado").
Photo by Scott Jones
The formula has resonated with customers. "From our opening to December 31st, we sold slightly under 900 barrels of beer," says Cunha, a graduate of Lower Cape May Regional High School. "We are very honored and excited." Cunha has already added another 30-barrel tank to his lab to increase output this spring. "In the upcoming months we are looking to have a weizenbock, Scotch ale, coffee porter, Vienna lager, Belgian tripel and saison."
Complementing the beer is a huge food menu featuring everything from onion rings and smoked wings to Cape May salts on the half shell and crab-topped rib eye. "They do a great job with beer-food synergy," says Couchoud, which was another award criterion, along with staff knowledge, beer service ("proper glassware!") and overall design. Mud Hen ranked highly everywhere. Raise a toast to its new award