The former lot where the famous Wildwood Diner stood at 4001 Atlantic Ave will have a new hotel built on the property pending final approvals in 2018. The diner hadn't been open since operating sporadically in 2005a and was demolished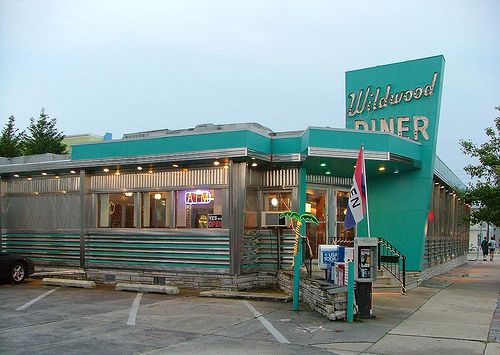 It was composed of two main sections, an original O'Mahoney in 1957 which was soon after fronted by a larger rare Superior Dining Car Company unit. The interiors of stainless, sturdy formica and terrazzo were still in excellent condition. The deco stainless and turquoise exterior still gleaming brightly and solid after 50 years.The main diner was a 16′ x 54′ stainless steel Jerry O'Mahony Diner built in the 1950s. A vestibule and two dining room areas were added onto the original diner in the early 1960s. The 5 section diner seats 127 customers, 110 booth seats and 17 counter stools.  It was for sale for only $5,000 in "as is where is" condition after October 31, 2005.The diner came complete with all furniture and all equipment.
The new hotel will be called The Paradise, it will be an interior corridor hotel, 3 floors high with an elevator, large pool, and deck.
The hotel will have large 3 bedroom family rooms and offer FREE hot breakfast. The newest hotel in Wildwood will break ground sometime early 2018 and be completed in late 2018 if everything goes as planned. The company building and operating the hotel owns 8 other hospitality properties at the Jersey Shore.
Follow us for more info as we receive it.