The City of Wildwood is proud to announce that online booking for 2018 beach boxes rentals will open on February 1st. Last year, the City launched an online system to handle all reservations. The season was very successful and the City plans to continue growing this easy and convenient storage system. Beach boxes are available from May 20th to September 8th. Popular reservation locations and dates booked very quickly in 2017, therefore it is recommended that you book your 2018 reservation as early as possible.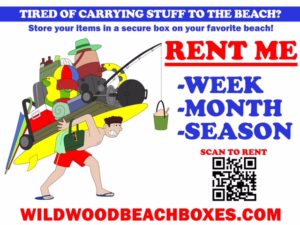 This year, the booking will be completed on a newly designed website that's more user-friendly. The booking process is easier than ever, and rates will remain the same as 2017;
$60 per week, $225 per month, or $375 for the season.
All reservations must be made through the online system available at www.wildwoodbeachboxes.com. 
Take the hassle out of going to the beach, and book your beach box today.