March is Women's History Month. We will be observing the remarkable women of the Wildwoods for their leadership, achievements, their struggle for equality, and their influence on the Jersey coast. Some of those women are listed here, Dr. Margaret Mace, Katherine Baker, Doris W. Bradway, Joy Bright Hancock, Louise Lockley, and Lillian G. Harrison.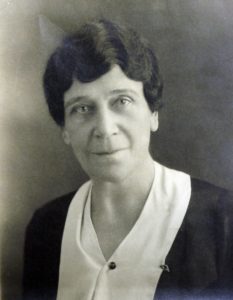 One of the most prominent members of Wildwood was Dr. Margaret Mace, born in England in 1871, moved in the 1880s with her family to the United States, settling in Anglesea, now known as North Wildwood.
Wildwood would always be her home, and after graduating from the Women's Medical College of Pennsylvania located in Philadelphia in May of 1905, she began practicing medicine in her hometown.
Dr. Mace crusaded for a county health service and a county hospital. In 1911, she and J. Thompson Baker, along with some Five Mile Beach businessmen, incorporated to open Samaritan Hospital of Cape May County. In 1915, she bought the Frederick Sutton Mansion and opened her own Mace Emergency Hospital at 2410 Atlantic Avenue, with 25 beds. She became a legend. She operated there until 1950. She died a year later. In 1950, Burdette Tomlin Memorial Hospital opened in Court House.
It is estimated she delivered 6,000 babies during her practice. Dr. Mace maintained a relationship with the thousands of children she delivered. She provided the children with clothing and essentials that they needed. She never acquired much in the way of worldly possessions because she gave it all away to the needy. Many could not pay for their services, but Dr. Mace never turned away anyone. The North Wildwood's elementary school at 12th and Atlantic avenues bears her name, a tribute to her caring for and about children.
Dr. Mace memorabilia is on display at the Wildwood Historical Society's George F. Boyer museum on Pacific Avenue. The museum features a portrait of Mace and other artifacts, including her black medical bag with a St. Christopher's medal still hanging on its side.
There are newspaper accounts that recall a 1935 snowstorm in which Mace took to horseback to help a woman in labor. Police Capt. Louis Fiocca recalled the doctor climbing onto the horse without hesitation to lend a hand.
Another story recounted was that she went to the scene of a man pinned under a train and climbed underneath to administer aid. She was also known for her expert medical care in treating the local fishermen.
Dr. Margaret Mace was a remarkable women and her dedication to the people of Wildwood will never be forgotten.
Research and picture for this article attributed to The Wildwood Historical Society George F. Boyer Museum.