WILDWOOD – In case you haven't heard, when it comes to helping kids with cancer, Wildwood Middle School students are sewing up a storm as well as learning the concept of paying it forward.
As only one of 30 schools nationally to participate in Ryan's Case for Smiles, a charity that gives whimsical, hand-made pillowcases to hospitalized children, Sept. 19 was a special day for Wildwood students when a commemorative 1,000,000th pillowcase was delivered to the school.
This past school year, as part of the 21st Century After School Program, 80 students in grades 5 – 8 participated in Ryan's Case for Smiles that helped them create pillowcases to help lift the spirits of children with cancer.
Teacher Tricia Lemma who coordinates the program said the program allows Wildwood children the opportunity "to learn how to sew as well as give back to children who were in the hospital."
Throughout the school year five representatives from Ryan's Case for Smiles Southern New Jersey Division would bring sewing machines to the school every other Monday and would work with children to create their masterpieces.
"The volunteers would explain the charity and the task at hand while working alongside students, teaching them how to sew a pillow case using an electric sewing machine as well as ironing their pillow case to perfection," explained Lemma.
The charity was named for Ryan Kerr who was diagnosed with osteosarcoma at the age of 12. After five recurrences, 30 months of chemotherapy, 15 surgeries, the amputation of his right leg and 150 days of physical therapy, Kerr lost his battle to cancer. The charity was created in his name to help "kids feel better to heal better." According to the charity's website, more than 120 chapters nationally have produced pillowcases that have been given to more than 50,000 children at 330 hospitals annually.
"The City of Wildwood is extremely proud of these students," said Wildwood Mayor Ernie Troiano. "Their dedication in reaching out to help hospitalized kids is amazing. Not only have they given of themselves but they have received so much back in learning to pay it forward."
##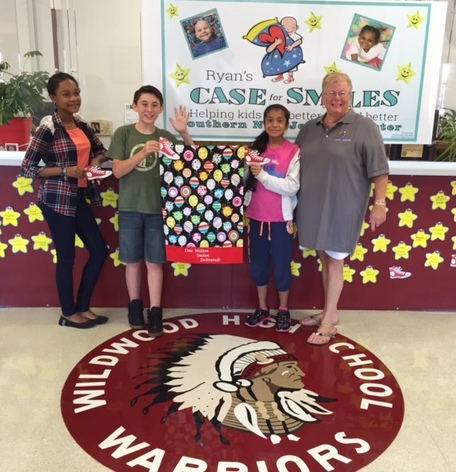 Left to right: Sharon Caldwell, Raquel Mayren-Hernandez, Chris Beitel, Kimberly Schaffer. Photo courtesy Wildwood Middle School